Bitcoin has enjoyed some bullish momentum, with price rallying past $43,000 on Friday as the number one cryptocurrency by market cap continues to cover the loss suffered from the second quarter sell-off. In terms of performance, Bitcoin is up by about 1% over the week, while Ethereum is up by 17% over the same period. 
Analysts are quite optimistic about the broad bullish action in the crypto market, and they expect the market to continue on its upward trajectory, especially for Ethereum. The second-largest cryptocurrency by market cap soared past $2,600. This new rally in price is not unconnected to the latest London hard fork upgrade on the Ethereum blockchain network. 
Speaking about the current resurgence in the crypto market, Paolo Ardoino, CTO of Bitfinex, said, "A mood of optimism appears to have returned to cryptocurrency markets," 
"Still, the turbulence that we've seen in crypto markets over recent weeks is unlikely to subside," he added.
Bitcoin is showing remarkable strength, and analysts expect this to continue at least to next week after its price rallied out of a downtrend on Friday to retest April's all-time highs.  
With Bitcoin blasting through $42,000, technical indicators are pointing to more gains. Friday's relatively robust price action is seeing the number one cryptocurrency attempting to rally past the intermediate-term downtrend. And should that happen, we expect the price of Bitcoin to rally towards $50,000 to $55,000 resistance. 
According to Kevin Kang, the CEO of BKCoin Capital, "The market has been oversold for quite some time. I think we are resuming the bull market in the coming months."
Ethereuem's renewed bullish momentum
Ether's new resurgence, especially in the options market, has been attributed to bullish bets, higher strikes, or longer duration calls. 
According to data made available by Laevitas, Ether's volumes on Deribit, one of the largest crypt options exchanges, has skyrocketed by over 50,000 in the last 24 hours. This has pushed the volume to its highest since the end of May. 
Overall, call options have experienced higher activities than puts. Also, the most popular options are calls expiring in March 2022, with strike prices pegged at $50,000 and 40,000, respectively.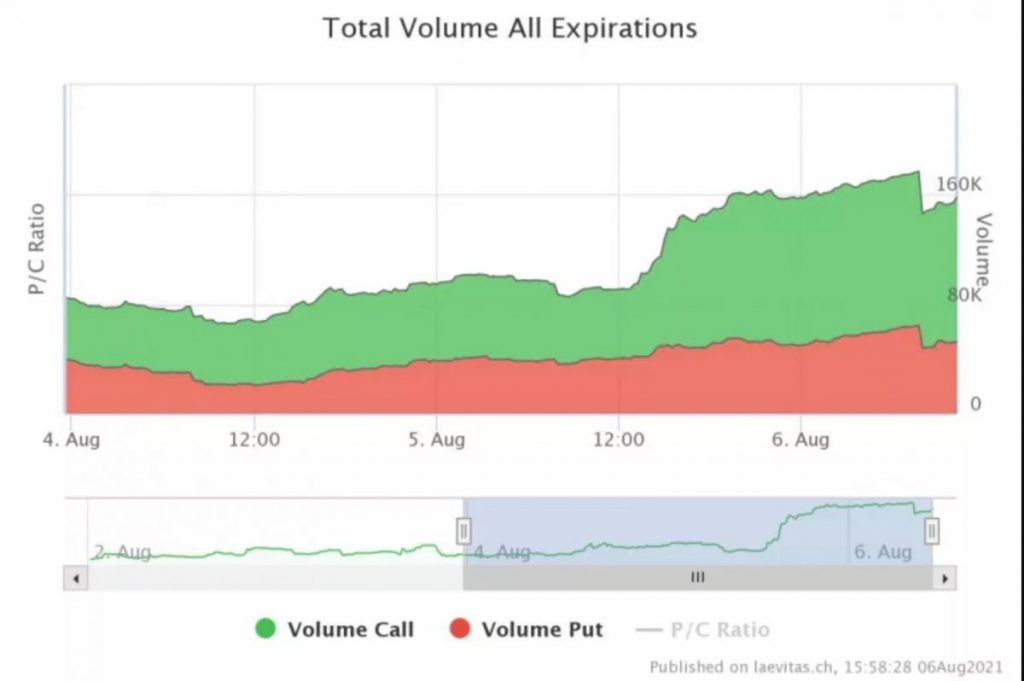 The recent bullish ride enjoyed by Ethereum has been attributed to the Ethereum Network upgrade, which saw the number two cryptocurrency by market cap outperform Bitcoin, though with greater volatility. The below chart reveals that Ethereum looks to be more volatile than Bitcoin.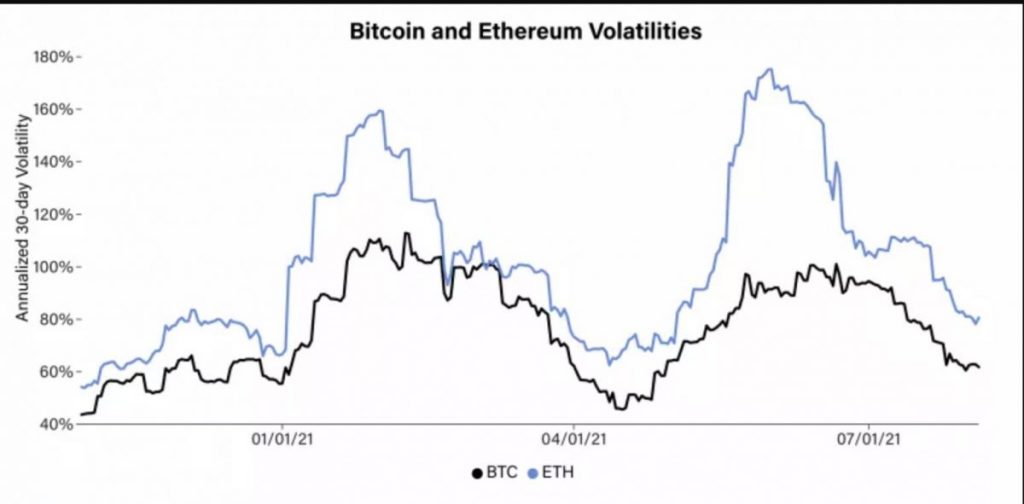 The growing Bitcoin transaction volume
Bitcoin transfer volumes have rallied to nearly $7.48 billion in the last 14 days. And this has been attributed to increased activity on the blockchain as Bitcoin's price continues to rise. 
According to Glassnode, the Bitcoin blockchain network has seen transactions over $1 million in size. This represents approximately 46% of the total transaction volume, an indication of a sustained upward move. 
Ethereum, Matic, and Link volume rise
Since Link released its smart contract kit v0.10.10 on July 25, the protocol has seen a significant volume increase on not just Coinbase but across other exchanges where it is listed. In terms of numbers, Link volume has increased by over 35% since the protocol launched its smart contract dedicated to providing full support for Optimism. On the flip side, Matic experienced a decline in volume within the week. 
Sequel to the EIP 1559 Ethereum hard fork, stats show that Ethereum's volume outperformed Bitcoin's by almost 61%.
Conclusion
The new resurgence in the crypto market will no doubt interest investors and the crypto community at large. While we expect to see more bullish action, we will keep watching to see how the crypto market performs within the coming weeks.