PAWSWAP value dip as trillions of PAW are staked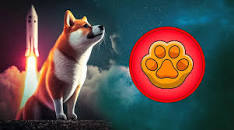 The PAWSWAP platform, which is a decentralized exchange of the popular crypto-currency PAW, has seen its value dip recently. This is largely because trillions of PAW have been staked on the platform. Below are some key points:
The PawSwap team released its PAW Staking Mainnet yesterday.
Up until now, the mainnet has received about 200 trillion PAW tokens in stakes.
As of now, the PAW token has experienced a decline of 10.90%.
Despite staking approximately 200 trillion PAW tokens on the newly launched PAW Staking Mainnet on April 30th, 2023, the PAWSWAP (PAW) price has unexpectedly dropped. It is noteworthy that such a large number of PAW tokens were staked within less than 24 hours.
Although reducing the a supply typically causes a price increase, PAWSWAP's price has actually dropped by 10.68% at the moment. The reason could be that only 0.2% of the total supply of PAW tokens have been put into stake.
PawSwap guideline
The PAW ecosystem's mainnet for staking is its first major product launch. The project has a comprehensive roadmap that includes the development of PawChain blockchain and cross-chain decentralized exchange (PawSwap). The focus is on ensuring security, speed, and user-friendliness for trading crypto assets.
Paw Chain's official Twitter account has announced the launch of the mainnet for staking, which is the first major product of the PAW ecosystem. A report on the audit status will also be shared with the PAW community within the next few days, according to the tweet.
CertiK has stated that the PAW code meets their standards, and the company is now focused on completing the final audit score.
The PawSwap team first launched the PAW token on the Ethereum network and has now released the PAW Staking Mainnet. Although the staking mainnet and token staking launch did not cause a bullish trend in PAWSWAP's price.
The upcoming launch of PawChain blockchain and cross-chain decentralized exchange (PawSwap) is likely to increase the demand for PAW tokens and potentially; lead to a surge in PAW's price.
About PawSwap
PawSwap is a decentralized exchange (DEX) and automated market maker (AMM) built on the ETH blockchain. It uses proprietary swapping algorithms to facilitate token swaps between two users in an easy, fast, and secure manner.
The platform also allows stakers to earn rewards by providing liquidity to various pools, enabling them to passively earn revenue in PAW tokens. The platform is designed to be secure, reliable, and easy to use for everyone.
It allows users to trade with financial autonomy and control their own funds without relying on centralized exchanges. PawSwap also provides a safe environment for DeFi applications by using smart contracts and non-custodial wallets.
Conclusion
PawSwap has seen a dip in its value recently, largely due to the trillions of PAW tokens that have been staked on its platform. This may be because only 0.2% of the total PAW token supply has been staked so far.
Despite this, PawSwap is still focused on launching its blockchain and cross-chain decentralized exchange (PawSwap). Which could potentially lead to an increase in demand and rise in price. Until then, the PAWSWAP value will remain volatile.
We hope that this article has provided an insight into the recent changes in PAW's value and its potential impact on the market. It will also be nice to know your thoughts about PAWSWAP, kindly hit the comment section and tell us what you think!