Ripple (XRP) could rise to $0.82 in the short term
Ripple (XRP) forms a strong bullish pattern that might give rise to an upward trend. The coin recovers a critical trend line and will look to gain momentum in the coming days.
But how far can it rise? As you'll discover below, there are several more lessons to be learned from this chart. But first things first:
XRP consolidates gains firmly above the 100-day moving average
The coin breaches $0.72 and regains an essential trend line.
The momentum may push XRP towards $0.82 in the short term.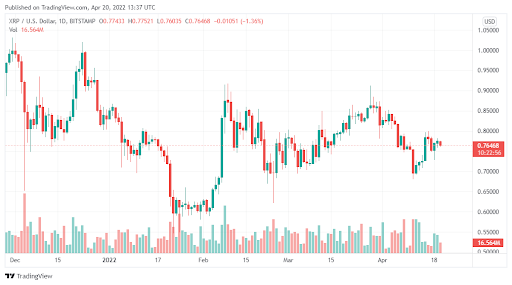 Ripple (XRP) and the potential for further gains
After a rocky start to April, the broader cryptocurrency market has recovered. Even though most coins have not surpassed all-time highs, they have maintained an equal or greater proportion of the gains we saw during the March bull run. 
Ripple (XRP) is one of those cryptos that goes far to the bottom and starts to recover.
Recently, XRP's value increases by 10%. The cryptocurrency enters a bullish setup that may result in up to 15% more gains. When the coin broke through $0.72, it achieved an important ascending trend line.
So far, the coin has kept this line and appears ready to rise towards $0.83. XRP also continues to move steadily above its 100-day SMA, further bolstering this optimistic viewpoint.
Despite this, there are a few additional risk factors to consider. To begin with, the relative strength index is still in the bearish zone by a considerable amount.
This might make maintaining momentum difficult. As a result, it's critical to use sound risk management when trading this setup.
Is XRP worth buying?
Some risk continues to exist for XRP. However, the potential for a 15% gain in the next few days is enticing. In that case, you may buy XRP utilizing little amounts of money but be sure to use a small amount of capital. 
Also, be sure to keep a close eye on any potential price gyrations that may shake out weaker traders. Overall, Ripple's potential to reach $0.82 in the near term makes it worth considering as an investment opportunity.
However, if you want to keep the coin for a longer period, you may buy it without hesitation. The long-term prospects for Ripple are very bright.
The reason why Ripple (XRP) could rise to $0.82 in the short term is because of the increasing adoption of RippleNet by financial institutions.
About Ripple (XRP)
Ripple (XRP) is a cryptocurrency that is used by RippleNet, a Ripple company's enterprise blockchain network for international payments.
RippleNet uses the XRP token to Ripple company's provide liquidity to financial institutions that want to send cross-border payments.
Theoretically, XRP can be used by anyone, but it is mostly used by RippleNet members.
Ripple has been working with traditional financial institutions and has even partnered with some of them. This has caused the price of XRP to rise in recent months.
Many analysts believe Ripple (XRP) could continue climbing in the near term, driven by an overall surge across the cryptocurrency market.
If Bitcoin (BTC), Ethereum (ETH), and other major cryptos manage to break past their current resistance levels. Ripple (XRP) will likely benefit from increased investor interest and see further gains.
The Ripple team has been on a roll lately, announcing several partnerships and developments that could lead to mass adoption of its products.
The most recent partnership is with Binance, the world's largest cryptocurrency exchange. Under the agreement, Binance will use Ripple's xRapid product to facilitate cross-border payments.
This is a major development because it will make it easier for Ripple to partner with other financial institutions and expand its reach.