ETH was down as much as 15% at one point, but it has since recovered those losses and then some.
The coin is currently trading at $322, up 4% from its 24-hour low of $308.
Ethereum has recovered following a sharp drop during the start of this week.
The currency has shown remarkable resilience in the face of major market pressure.
ETH now appears to be on track for a significant bull run, but how will it play out? Here's what you need to know first:
The $3,000 support was finally regained after falling below in recent days.
The price has remained in a relatively tight range above $3000 for the time being.
The 50-Day SMA of ETH has now been surpassed, and more gains are expected.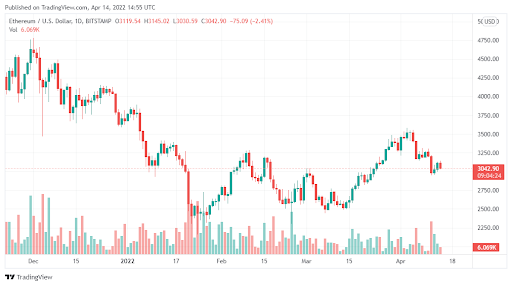 The rebound in ETH prices comes as the overall cryptocurrency market starts to show signs of life.
Ethereum's strong performance today suggests that investors are still confident in the long-term prospects of the second-largest cryptocurrency by market cap.
ETH potential for growth
The price return from Ethereum has been relatively stable since mid-December of 2021.
The coin failed to break $4000 in the first half of 2022, and it has repeatedly fallen back down when it gets close.
For the time being, we don't believe ETH has the momentum required to reach $4000. 
Rather, we anticipate the price to remain at roughly $3000 for the immediate future.
Once this occurs, ETH is likely to break through $3200 and then retest its 100-day SMA of around $3600 in the days ahead.
If it happens, there is a chance that the value will rise by around 30%. 
However, if bulls are unable to maintain the $3000 support, this forecast will be invalidated.
ETH continues to be highly volatile, and if current trends do not continue, it may dip below $3000.
ETH aims to hit $4000
If the coin breaks through $4,000 as a round number, it will be a sign that the ETH market has decisively broken out.
Many investors have been tracking this price for four months now.
However, it's worth noting that there isn't much evidence to suggest that ETH will surge above $4000 shortly.
Instead, the currency is expected to fluctuate between $2700 and $3600.
But this may vary over time as we approach the end of Q2. ETH is also predicted to surpass $10,000 by year-end 2022.
Final thoughts
Ethereum (ETH) has been one of the best-performing cryptocurrencies in the past year.
The coin has surged by more than 600% since January 2020 and is currently trading at around $3,200.
Ethereum's market capitalization is now close to $400 billion, making it the second-largest cryptocurrency after Bitcoin.
The recent surge in Ethereum's price can be attributed to several factors.
One of the most important drivers is the increasing interest from institutional investors.
For example, hedge funds and other large financial firms have been buying Ether as a way to gain exposure to the cryptocurrency market.
In addition, the launch of Ether futures contracts on major exchanges such as CME Group and Bakkt is also a factor.
That said, we do believe that Ethereum is in a good position to make a strong run in the second half of the year.
The overall market conditions are improving, and Ethereum appears to be well-positioned to take advantage of that.