Over the previous four days, Apecoin (APE) has been experiencing downward trend.
However, today, the currency has bounced back and appears to have reversed the downward pressure.
APE is not done yet, however. Whales accumulation may continue to drive up prices. The following are some of the most important details:
APE may increases to its value to 22 percent in its latest bull run
The coin's price may be under pressure once it reaches $15.
Apecoin has been up over 12% in the past 24 hours and over 36% in the past 7 days.
The coin is currently ranked at number 25 on CoinMarketCap with a market capitalization of $987 million.
One of the driving factors behind this recent surge in price could be attributed to the big players buying Apecoin.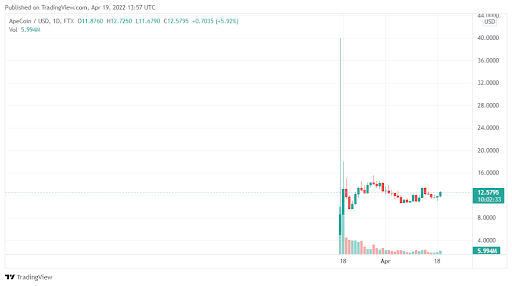 Apecoin, the bullish arrangement
APE's price has been on a continual decline since March, when it posted its highest value at $17.46.
The cryptocurrency has struggled to find much momentum since then. Instead, the coin was beginning to fall out of control.
However, it appears that this downward trend is now coming to an end. In fact, APE appreciated by 10% over the previous 24 hours.
Following a five-week consolidation period, it's possible that this bull run will push APE prices to new heights.
The RSI indicator is also indicating upward momentum for APE.
We can anticipate additional gains in the near term as long as the price movement stays above $10 in the days ahead. 
However, there is a little bit of potential for profit.
Investors have recently discovered that the range between $14.23 and $15.98 is a major selling zone, with significant losses being made in recent days.
This isn't expected to change any time soon.
Although it is quite probable that APE will rally 22%, if it reaches the sell zone above; it will most likely retreat further downward.
Profiting from this arrangement
There are few risks to APE at the moment.
After four consecutive down days, it appears that the coin is ready for greater gains.
The best entry point will be between $11.5 and $12.5, according to many analysts.
It's likely that APE will rise above $14 in the coming days; this would be a good time to sell and make a profit of at least 15%.
What is driving the upward trend?
Apecoin's recent price surge can be attributed to the growing interest from institutional investors and big players in the cryptocurrency space.
A number of high-profile investors have been buying Apecoin in large quantities, which is driving up the price.
One of the most notable investors buying Apecoin is Tim Draper, a well-known venture capitalist.
Draper purchases Apecoins worth $1 million at a price of $6,000 per coin.
This is a significant investment, and it shows that Draper believes in the long-term potential of Apecoin.
Another major investor buying Apecoin is Mike Novogratz, a former hedge fund manager.
Novogratz has invests $250 million in Apecoin and other cryptocurrencies.
He is one of the most bullish investors in the space, and his investment is a vote of confidence in Apecoin.
These are just two examples of the big players buying Apecoin.
There are many more institutional investors and large cryptocurrency investors buying Apecoin.
This growing demand is what's driving up the price of Apecoin.
With the altcoin market on the rise, it's not surprising to see Apecoin making gains as well.
Why do you think about this coin? We will like to hear from you.