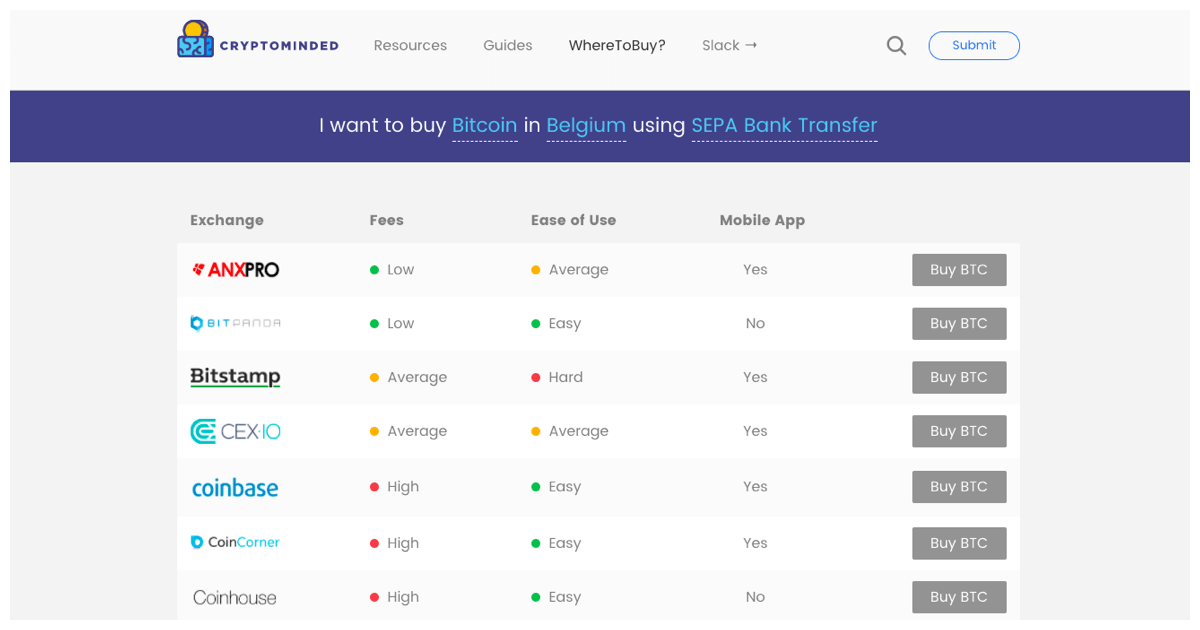 Best Bitcoin Exchanges 2021
Bitcoin is the number one digital currency by market cap. While the world is finally opening up to Bitcoin and cryptocurrency in general, we are beginning to see a rise in the number of Bitcoin exchanges all set up for one purpose: allowing people to buy Bitcoin in exchange for other assets such as traditional currencies or digital currencies.
Unfortunately, choosing the best Bitcoin exchanges can be quite tricky, especially with the myriad of Bitcoin exchanges out there. But guess what? We have made your job easy by putting together a list of the best places you can buy Bitcoin without any hassle.
But before we dive into the nitty-gritty of today's post, we want to tell you right from the get-go that the best cryptocurrency exchanges are cost-effective, secure, easy to use, quick to set up, and have put in place various sources of fundings to give their customers enough options when funding their accounts. That said, here is our list of the best places to buy Bitcoin.
Coinbase
Currencies:
56+
Wallet included:
Yes
Fees:
Coinbase charges a flat fee between $0.99 to $2.99. Funding fee up to $3.99 for debit card transactions.
Why we love them
Coinbase has stamped its foot as one of the best cryptocurrency exchanges out there. Thanks to providing support for a number of top cryptocurrencies, a robust security architecture, and reasonable fees, they have become the go-to platform for anyone looking to buy Bitcoin without sweating it.
Pros
Coinbase has an active community and a whopping 56 million active users
Charges reasonable fees
Provides support for a substantial amount of cryptocurrencies
Cons
Their spread pricing increases the chances of higher fees
Coinbase charge their customers high fees for debit card transactions
Overview of the Coinbase exchange
Since stepping foot into the crypto space, Coinbase has become a force to reckon with. Based in San Francisco, this cryptocurrency exchange is among one of the largest cryptocurrency wallet providers. As at our last check, Coinbase has over 56 million active users in over 100 countries, making them the one-stop destination for cryptocurrency traders and investors.
According to reports, Coinbase has over $223 billion in assets while their exchange facilitates over $335 billion in trade volume every quarter. Using the Coinbase exchange allows you to trade a variety of cryptocurrencies, including Bitcoin.
Like many cryptocurrency exchanges, Coinbase charges its users a number of fees, which it clearly states when executing a transaction. These fees include a flat per-transaction fee together with a spread of 0.50%. Also, keep in mind that Coinbase fees vary, depending on the funding method. For instance, customers are charged up to 3.99% when using debit cards to buy. Serious traders or investors will love the Coinbase Pro feature, which has its own unique pricing model.
In terms of security, Coinbase doesn't take anything to chance. From strong security architecture via Coinbase Vaults to two-factor authentication to leveraging offline storage, Coinbase always ensures that customers' assets are secured.

eToro
Currencies:
17
Wallet included:
Yes
Fees:
Charges users a spread price of 0.75%
Why we love them
Even though eToro may not provide as many currency options as you'll find on big exchanges like Coinbase, they are the perfect exchange for beginners. And that's all thanks to their intuitive and simple user interface that makes buying Bitcoin and other crypto-assets a stroll in the park. Also, their demo account feature ensures that newbies can test the waters without risking real money.
Pros
Hassle-free and easy to use platform
Impeccable demo trading feature
Copy-trading feature to give customers an edge.
Cons
No so cool spreads for Bitcoin purchases
Overview of the Coinbase exchange
If you've always been interested in a platform with an intuitive interface that allows users to trade Bitcoin while learning the ropes of cryptocurrency trading, Etoro will make an amazing option. Newbies will love Etoro because of their straightforward platform as well as their CopyTrader feature, which allows you to copy trades from professionals with a proven track record of wins.
The Etoro platform allows newbies to kick off their cryptocurrency trading journey using a $100,000 virtual account. Once you feel comfortable, you can jump into live trading using real money. And like we mentioned earlier, eToro charges a 0.75% spread price for Bitcoin as well as higher fees for other currencies.

Robinhood
Currencies:
17
Wallet included:
NA
Fees:
None
Why we love them
Robinhood is our number one choice in terms of cost, and that's because they offer commission-free Bitcoin trades. So if you're tired of paying exorbitant fees for Bitcoin purchases, you'll absolutely love Robinhood.
Pros
Offers customers commission-free Bitcoin trades
Simple and intuitive platform
Cons
No support for many top currencies
Doesn't make provision for wallets
Overview of the Coinbase exchange
Going for exchanges that charge fees up to 0.50% on Bitcoin transactions will mean giving up a large part of your profits right from the get-go. But guess what, all that is set to change with a commission-free stockbroker like Robinhood. With Robinhood, you can kiss goodbye to paying fees on Bitcoin trades as the platform lets users buy and sell Bitcoin without charging any fees.
If you already have a bit of experience with stock marketing investing, using the Robinhood platform to buy cryptocurrencies will feel pretty familiar.
But before you get overly excited, let us quickly add that Robinhood Crypto is different from your typical Robinhood stock investment account.
Our only caveat with this platform is that they only support a shortlist of currencies. But if you're only interested in Bitcoin, you shouldn't have any problems.
BlockFi
Currencies:
6
Wallet included:
None
Fees:
N/A
Why we love them
While BlockFi doesn't support many currencies, we love the platform because it provides traders with the option to borrow using Bitcoin as collateral. They also allow investors to lend Bitcoin to earn interest. Let us also add that they allow investors to trade with no fees.
Pros
Offer investors up to 8.9% APY in crypto lending.
Provides investors with the opportunity to use Bitcoin as collateral for USD loans
Zero fees for Bitcoin purchases.
Cons
Interest on loans could go as high as 9.5%
Overview of the Coinbase exchange
For people with a lot of cryptocurrencies, who aren't looking to cash in any time soon, you'll love the BlockFi exchange. This incredible platform allows investors to earn interest when they deposit Bitcoin into an account. Plus, if you're looking to unlock your Bitcoin without selling, you can use your asset as collateral for a loan. However, before exploring this option, keep in mind that BlockFi has an interest rate of 4.5% to 9.75%. Also, they charge an extra 2% origination fee.
The icing on the cake is that BlockFi doesn't charge any fee for Bitcoin purchases. With up to 8.6% APY interest rates, people with enough crypto-assets can make extra money on the side for simply providing liquidity to the platform. Let us also add that BlockFi recently launched a new reward credit card that pays investors in Bitcoin.

Bisq
Currencies:
64
Wallet included:
Yes
Fees:
Charge traders between 0.05% to 0.7%
Why we love them
If you like privacy and anonymity when purchasing Bitcoin, you'll love the Bisq crypto exchange. Using their open-source desktop app will give you all the anonymity and privacy you crave when buying or selling Bitcoin.
Pros
Its decentralized features dramatically improve privacy
Their desktop app is open-source
No complicated identity verification needed
Doesn't require any kind of registration
Cons
No information on active users
You may experience slow transactions
Overview of the Coinbase exchange
If you have always loved the anonymity and privacy provided by Bitcoin and would love to trade Bitcoin in absolute privacy, then Bisq has everything you're looking for. The icing on the cake is that Bisq doesn't require traders to sign up for an account before buying or selling Bitcoin. What this means is that you can buy and sell Bitcoin with absolute privacy. More so, their desktop app is open source, so it is free to use.
We like that the exchange provides traders with various payment options, including Western Union, Bank Transfer, Zelle, Chase QuickPay, and Popmoney. Bisq usually charges between 0.05% and 0.70% as transaction fees, depending on what you're trading and your payment methods.
Our verdict
While the crypto market is saturated with many exchanges that offer lofty promises, we always encourage crypto enthusiasts, investors, and traders to go for exchanges that offer a nice mix of robust security architecture, fair transactions fees, and multiple trading options. So it's important you know what you want before jumping into cryptocurrency trading.
For those who aren't sure which exchange to go for, Coinbase wouldn't be a bad option at all. With this platform, you can buy tons of crypto-assets while enjoying considerable fees in a secure setting.
Frequently asked questions
A Bitcoin exchange is a platform that allows investors to convert fiat currencies like the U.S. dollar into Bitcoin. Interestingly, many Bitcoin exchanges also support other cryptocurrencies.
Before deciding which Bitcoin exchange ticks all your boxes, keep in mind that every exchange has its unique pricing system. While some exchanges use centralized systems, privacy-focused exchanges use decentralized systems. Depending on your preferences, these options usually determine which exchanges people opt for.
How does a Bitcoin exchange work?
Most Bitcoin exchanges act as middlemen, and that's because they connect buyers to sellers. Also, some Bitcoin exchanges function as brokers. Whenever traders buy Bitcoin using their wallets, the transaction is recorded on the Bitcoin Blockchain network. Some exchanges even transact for their customers.
For people who always want to be on the right side of the law, it will interest you to know that Bitcoin exchanges are legal in many countries, including the United States. Nonetheless, as a law-abiding citizen, you'll still have to report capital gains for annual tax filing
If you want to buy Bitcoin without any hassle, it's important you opt for exchanges with a proven track record. Before buying Bitcoin from any exchange, do your due diligence by researching the platform.
Regarding whether the number one cryptocurrency by market cap is a safe investment, keep in mind that Bitcoin is a fluctuating asset. And because it is more volatile than traditional assets, you may see the price fluctuate very often.
How are Bitcoin exchanges different from mining software?
Bitcoin exchanges and Bitcoin Mining software are two different things. For starters, Bitcoin mining software helps maintain the Bitcoin Blockchain. It ensures that all transactions on the Bitcoin blockchain are publicly recorded across tons of computers around the world. More so, when a trade is executed, computers called miners work round the clock to record transactions. This action results in a small fee awarded to people who execute the transaction.
People who own bitcoin mining rigs can mint their own bitcoin by racing to execute transactions. To improve your chances of making any decent returns in this area, you can join a pool of miners. Also, keep in mind that Bitcoin mining uses an insane amount of power, so you may end up spending more than you actually make. Plus, Bitcoin mining is great for tech-savvy people.
Is there any difference between Bitcoin Exchanges and wallets?
Bitcoin exchanges are platforms where traders or investors can purchase Bitcoin. Wallets, on the other hand, are the accounts used to store your cryptocurrency. While decentralized exchanges like Coinbase provide wallet services for investors to store their Bitcoin, centralized exchanges usually hold Bitcoin on customers' behalf.
Also, keep in mind that wallets can operate outside of an exchange. That is why you can deposit Bitcoin to external wallets.
Buying Bitcoin isn't rocket science, as the process is fairly easy. Read on to see some steps you can follow:
Choose your preferred exchange and wallet provider: To buy Bitcoin, you'll need first to choose your preferred exchange and wallet provider. To make the process easy, we always encourage traders to go for an exchange that provides wallet services.
Sign up for an account: Once you have chosen your preferred exchange, the next thing is to sign up for an account. While some exchanges don't require any signup process, others do. If you opt for decentralized exchanges that don't require any type of registration, you'll need to be a bit knowledgeable to use the platform.
Deposit funds to your account: If you opt for an exchange that supports funding your account with fiat, you'll need first to fund your account before you're allowed to make any transaction. Also, some platforms allow traders to fund using debit or credit cards.
Place an order: Once you have successfully funded your account with fiat, you can proceed to place your order and wait for it to be executed. Since blockchain takes a while to process transactions, your transactions may not be instant. If everything goes smoothly, your Bitcoin should be credited to your wallet within a few minutes or hours.