Three top cryptos with a market cap of over $500 million
One of the most crucial metrics to keep an eye on when deciding which cryptocurrencies to invest in is market capitalization. Investors usually select coins with a lesser market cap since there is growth potential.
However, it may be useful to invest in coins with a mid-range market capitalization at times.
Some of the benefits of investing in cryptocurrencies with a market capitalization of more than $500 million include:
They are typically more stable than smaller altcoins, so they are less risky.
In the cryptocurrency market, mid-range cap coins are frequently put to the test.
They often have more features and developments than smaller coins.
A market value of over $500 million indicates the project is probably genuine.
They tend to be more liquid, so it is easier to buy
With a mid-range market capitalization, there is still significant room for expansion.
As a result, if you're looking for coins with a market capitalization in the mid-range; below is a list of the top three:
1 Inch Network (1INCH)
1INCH is a decentralized ecosystem that was created to support the DeFi movement. The platform aims to bring together a wide range of DEXs. Users may now trade a variety of crypto assets with little slippage thanks to this innovation.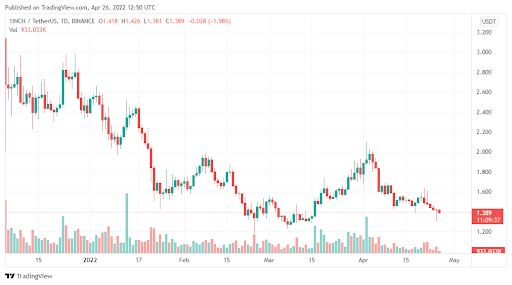 The 1inch Network (1INCH) is powered by the Incentivized Liquidity Provision protocol. This means that users who provide liquidity to the network are rewarded with a portion of the trading fees.
It also provides cross-chain liquidity aggregation, thus making it one of the world's most powerful DEX protocols. It is a trustworthy project with a track record in the market.
Yearn Finance (YFI is)
Yearn Finance (YFI) is an income farming technique that also serves as a DEX aggregator. It's one of the most well-known DeFi projects out there.
Yearn Finance has gathered a tremendous amount of capital in its ecosystem since its inception. We've also witnessed the network debuting new innovative goods in recent months, which
An up-and-coming DeFi project that has taken the crypto world by storm. It is a yield aggregator that allows users to earn interest on their deposited crypto assets.
YFI has been one of the top-performing assets in 2020, with its price increasing by over 12,000% since the beginning of this year.
Synthetix (SNX)
Synthetix (SNX) is a trading protocol that utilizes blockchain technology that enables investors to trade multiple coins and non-crypto assets.
The goal of the platform is to empower traders with several exceptionally liquid tradable assets over the entire financial landscape. The project commences in 2017 and has continued to develop at a steady rate up until now.
It is a popular decentralized finance project that enables users to create synthetic assets on the Ethereum blockchain. These synthetic assets can be used for a variety of purposes, including trading strategies, hedging mechanisms, and other financial instruments.
Synthetix has also seen impressive growth this year, with its price rising by close to 9,000% since the beginning of 2020.
Final word
There are many other exciting DeFi projects out there that have captured the attention of investors in recent months. Other notable examples include Maker (MKR), Compound Finance (COFI), and Augur (REP).
Ultimately, it's up to individual investors to decide which DeFi projects are worth investing in based on their preferences. However, the three discussed in this article are the ones with a market capitalization of $500 million.
As always, it will be nice to know what you think!