These coins could still deliver superb gains in 2022, despite a slow start.
The cryptocurrency market was hit particularly hard in 2022. The majority of cryptocurrencies have since recovered, but they are nowhere near their all-time highs.
While there are still many risks in the overall market, 2022 may turn out to be a fantastic year for crypto. Here's why:
The performance of traditional asset classes has been dismal, and investors may be drawn to cryptocurrencies as a result.
Some of the worries that investors had at the start of the year are beginning to subside.
Crypto remains a high-growth asset despite its rocky volatility.
Investors who can weather the storm may be handsomely rewarded over the long term.
One reason why crypto could thrive in 2022 is due to the increasing popularity of Altcoins. Altcoins are a type of cryptocurrency that is backed by real-world assets, such as gold or silver.
These Altcoins are growing in both popularity and value, making them an attractive option for investors seeking stability and security in their investments.
Here is the full list of crypto gems that still have the potential to do well in 2022:
Decentraland (MANA)
Even though the crypto market was hard hit at the beginning of the year, metaverse coins like Decenterland (MANA) fall faster. Despite their resilience, the currencies are still rather low in comparison to prior expectations.
Despite this, analysts believe that Decentraland could deliver excellent returns over the next few years. There are several positive factors at play; including its impressive blockchain technology and strong partnerships with other major crypto players in the space.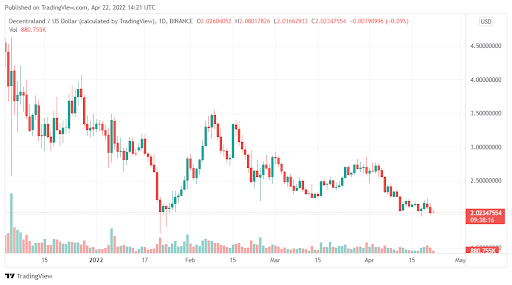 The silver lining is that concern in the metaverse will continue to grow. Because of this, MANA and other metaverse coins are likely to turn things around before the year comes to an end.
Fantom (FTM)
Fantom (FTM) has had a trying year. Following an unenviable start to the year, one of the project's major architects departed it as well. Investor confidence was damaged, and the currency plummeted.
However, there has been a small recovery. Fantom is still a very trustworthy DeFi system today.
Loopring (LRC)
Loopring (LRC) is an Ethereum scaling solution that has been experimenting with ZK Rollups, among other things. While the price has remained stable during the past few weeks, LRC still has a lot of potentials.
LRC is one of the few cryptocurrencies capable of producing five times your money this year if market conditions improve. Other Ethereum scaling solutions, on the other hand, confront tremendous competition.
Summary
Many Altcoin projects, such as Loopring and Algorand, have seen tremendous success in recent months as investor confidence in DeFi systems continues to grow.
Despite a slow start in 2022, Altcoins could still deliver superb gains going forward; due to their ability to scale effectively and offer more security than traditional cryptos.
If you're looking for a promising investment opportunity in the cryptocurrency space, Altcoins may be worth considering.