It may be tough to build a crypto portfolio with a tiny amount of money. However, this does not indicate that it is impossible.
What matters most is picking good assets and re-investing as much of your earnings as possible.
If you have a little budget for cryptocurrencies, here are some pointers:
Altcoins are usually cheaper than Bitcoin and thus offer a good entry point for cryptocurrency investing.
Altcoins also tend to be more volatile than Bitcoin, providing investors with the opportunity to make bigger profits.
However, altcoins are also riskier because they are less established than Bitcoin.
Always focus on high growth crypto assets like NFTs
Newer and more promising coins can also assist you to build your wealth
Trade on dips more regularly to expand your investment potential.
Reinvest Profits
Therefore, with just $1000 only, the three digital assets below can assist you in building a respectable collection of wealth.
(SHIB) Shiba Inu
Meme coins are notorious for their high volatility. Nonetheless, meme coins can jump dramatically. As a consequence, you will be able to put additional money into your account.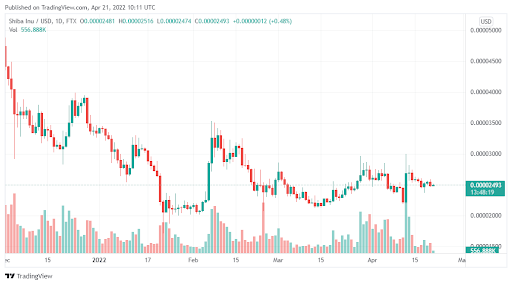 There are about three to four meme currencies you may choose, Shiba Inu (SHIB) is by far the finest. It has a good track record of delivering excellent results.
Even though SHIB has declined in recent years, there is still potential for greater returns this year.
SHIB's community is also very active, which can help to drive the price of the coin up. In addition, several celebrities have backed SHIB, which could lead to more mainstream adoption.
So, if you are looking for a meme coin with some upside potential, then SHIB could be a good option.
Apecoin (APE)
We all know that NFTs will be enormous. Apecoin (APE) is one cryptocurrency that might enable you to profit from the forthcoming NFT boom.
NFTs have been on a tear lately, with prices reaching new all-time highs. This asset class provides you with the opportunity to generate some serious profits. There are still a few big traders who own this currency.
This implies that the danger of a large sell-off exists, despite this fact. However, Apecoin is relatively new and has the potential to explode tenfold in future years.
The Sandbox (SAND)
In recent times, The Sandbox (SAND) has been gathering a lot of institutional money. It's regarded as one of the most promising metaverse projects with some past success in the industry.
While SAND may not double or treble your money in the near term, it can certainly do so quickly.
One of the main reasons to like The Sandbox is that it has a very passionate and large community.
Also, some of the game developers working on The Sandbox are experienced professionals who have worked on successful AAA games.
This means that they know how to deliver quality products.
SAND is currently trading at around $0.25. This implies that you can get 4000 SAND for $1000. I believe The Sandbox will be one of the top three coins.
Summary
Altcoins are a great way to diversify your portfolio and can offer high returns. However, as an investor, you should always do your research before investing in any cryptocurrency.
Cryptocurrencies are a new and exciting asset class with the potential for high returns. The three under discussion are just a few of the many options available to you.
Thank you for reading! I hope this article helps you in making a choice. It will be nice to know what you think.