Over the last three trading sessions, we've seen some good positive momentum for Terra (LUNA).
However, the coin appears to have stalled; nevertheless, there is still room for development. Here are a few things to consider:
Terra (LUNA) is a cryptocurrency that enables fast, inexpensive, and secure decentralized payments.
LUNA has the potential to become a leading payment coin.
The price for LUNA dipped considerably from its $119 highs at the start of April.
However, the cryptocurrency is still consolidating, and it may rise to $100 in the days ahead.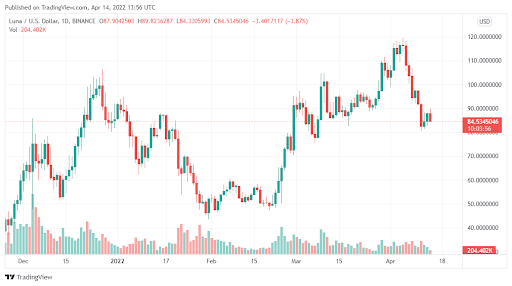 How long will it take LUNA to reach $100?
LUNA has been stagnant for the past two sessions in a row, according to the chart.
The coin is generally trading sideways, but this is a positive sign.
It indicates that we're seeing some price consolidation after the severe correction LUNA went through when it hit $119 on April 5.
Once this calming occurs, LUNA bulls will be able to take control.
The Terra (LUNA) cryptocurrency is currently trading at $78.08, which is still well below its all-time high of $119.
However, the coin has been on a steady upward trend since the beginning of the year, and it appears to be poised for further gains in the days and weeks ahead.
That being said, we anticipate that LUNA will test $100 over the next few days. The run will add up to 15% to the present price.
However, if bulls can prevent a sell-off once they reach $100, it will be quite difficult for bears to take a profit after such a huge jump in prices.
If Terra (LUNA) can do that, then it will open the door for a move to $120 and beyond.
So, keep an eye on Terra (LUNA) next week, it could be in for a big move.
Investors are locking profits at crucial resistance levels when a strong bull run begins, as we've seen with many cryptocurrencies this year.
The $100 mark is one such barrier for LUNA, and if bulls choose to protect their gains at this level, the price will fall to $80.
However, in the near term, there is a good chance of making a 15-20% profit.
How long will the upswing last?
We're not certain if there will be enough bullish momentum to drive LUNA up over $100. This price is set to become a huge supply zone.
But if Terra can overcome this, a move to $120 is possible.
For this reason, we recommend taking partial profits at $100 and holding the rest for higher levels.
Use a stop-loss order just below $85 to protect your position.
About the coin
(LUNA) is one of the most popular cryptocurrencies in the market today.
Its popularity is mainly due to its strong technology and active community.
Terra (LUNA) has a lot of potentials and is expected to do well in the future.
Recently, Terra (LUNA) has been gaining a lot of attention from investors and analysts alike; many believe that Terra (LUNA) will reach $100 or more shortly.
It is worth noting that Terra (LUNA) has a market capitalization of $4.67 billion; which makes it the 25th largest cryptocurrency by market cap.
Terra (LUNA) also has a daily trading volume of $1.43 billion, which is higher than that of many other large cryptocurrencies.
All things considered, Terra (LUNA) looks like a good investment at even at this current level.
If you're looking for a strong payment coin with upside potential, Terra (LUNA) is one to watch!