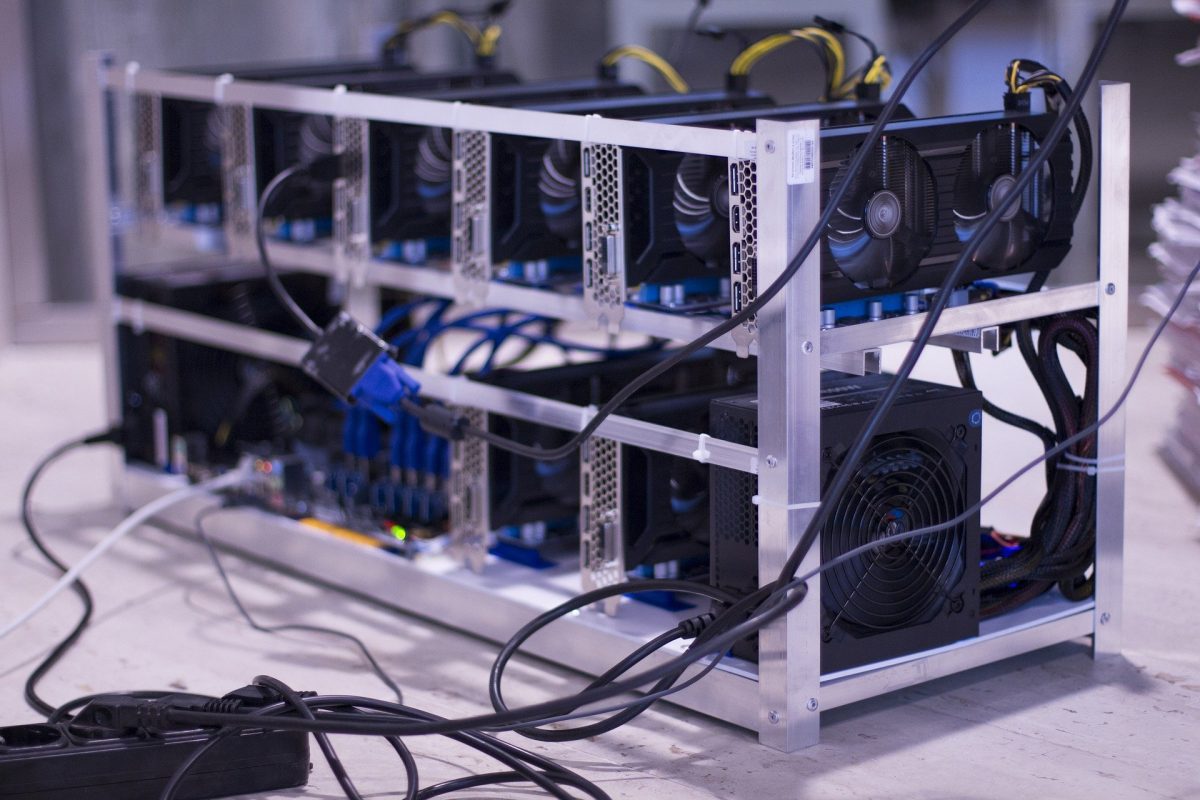 In a time where the world is struggling to manage the covid-19 pandemic, rising global crisis, unstable political clime, and social environment, cryptocurrencies have shown just how dogged they are even in the face of economic uncertainties. While the global pandemic-induced economic downturn has been a blessing in disguise for the crypto space as it attracted many professional traders into the space, it has also revived interest in mining as a lot of people explored different ways to generate passive income. 
It doesn't come to us as a surprise to learn that countries going through difficult political and economic situations have seen an overwhelming demand for GPU cards in recent months. For instance, in regions like Abkhazia, where the government has banned all crypto-related activities, terming it illegal, there has been an overwhelming demand for mining machines. Reports show that citizens spent over $500,000 on mining equipment within a period of six months. 
Another factor that has spiked people's interest in mining is the skyrocketing prices of different crypto assets. Bitcoin, the number one cryptocurrency by market cap, has risen by almost a third. Similarly, Ethereum, which is among the most popular crypto asset for mining, has almost quadrupled in terms of pricing. Even though its decentralized nature meant that gas fees reached astronomical levels, it has remained largely profitable to mine Ethereum. 
Now, the big question on the lips of many crypto enthusiasts is how can I build a crypto mining rig? Well, today is your lucky day as we have put together all the information you're looking for. We also provide you with some tips on whether this is something you should do as well as all of the associated risks that come with building your own mining rigs. 
Cryptocurrency mining rigs: All of the essential components you need
For those just getting started, it will interest you to know that crypto mining rigs consist of a computer with multiple graphics cards. The only difference between this powerful computer and your everyday computer is that this one doesn't have a monitor. Just so you know, the computer that comes with a crypto mining rig features tons of GPU cards, a powerful motherboard that is enhanced for performance, a power generating unit, and yes, a cooling system to manage the heat generated by your unit. 
When paired with a monitor, your machine will seamlessly function as a regular computer that allows you to access the internet or play your favorite games seamlessly. Besides being connected to the internet, your mining rig is also connected to the blockchain network. The network seamlessly functions on its own to execute monetary transactions by using the power of graphics cards. To give you a more detailed description, here are some essential components of a mining rig:
A mining rig features a powerful motherboard, which has been carefully designed to link to a number of connectors for GPU cards.
It also features a hard disk drive or HDD. This HDD usually has a storage space of between 100 to 250 gigabytes. Essentially, the storage space is designed to house the cryptocurrency wallet. While an Ethereum wallet usually takes up to 25 GB, a Bitcoin wallet, on the other hand, requires 50 GB of space or more. 
Cryptocurrency mining rigs also house many GPU cards. And just so you know, these are the most critical components of mining rigs because they are the basic tech that determines the type of cryptocurrency a user can mine as well as the future profits and timeline.
Your cryptocurrency mining rig isn't complete without a power-generating unit. If you opt for a mining rig with four GPUs, then you'll need to have more than one power unit. In terms of power generating units, we have seen miners put together a couple of 750-watt units for their power generating tool.
A power adapter for GPU cards. Always remember that the video cards are connected to the motherboard via unique extension cards, called risers. But even though there are many different types of models out there, the PCI-E 1x version is the most popular riser we have seen.
Like we mentioned earlier, your mining rig isn't complete without a cooling system, and that's because mining rigs are known to generate massive heat. To provide adequate airflow, we always recommend installing several coolers.
Another important detail you don't want to miss when building your mining rig is the frame for the rig. Over the years, we have discovered that it's always best to build the frame using wood or aluminum. Due to the many protruding parts, including adapters and cooling systems, you'll find out that the size of the mining rig is a little larger than the frame. For instance, a seven-GPU mining rig will be nearly 21 inches wide, 12 inches deep, and 12 inches high.
Once you're able to buy all of the components we listed above, the next thing you need to do is kick off the design process. If you have experience with computer hardware, this should be a pretty easy task. And if this is your first rodeo, you'll find things pretty straightforward with the tons of guides on YouTube.
Once your mining rig is ready, all you need to do is install some software. By software, we mean choosing a program for mining your preferred cryptocurrency. Another way you can start mining right away is to join a mining pool, which is among the most popular ways to mine these days. Mining pools are a great option because mining cryptocurrency is getting harder on an individual level by the day. More so, you need a solid hash rate to be able to mine profitably.
Other tools you'll be needing along the way include TeamViewer, which is essential for remote control, and WatchDog, which is designed to restart the system if the program freezes automatically.
Mining rigs: Top GPU cards
If you're really serious about building a mining rig, you must ensure you have all the right components. As a rule of thumb, a mining rig should have at least four to seven video cards. These video cards will not go beyond the framework of a stable operation, even though there are exceptions. Also, miners can connect as many as 10 to 15 GPU cards to one motherboard. That said, seven is the optimal number, and that's because Microsoft's Windows 10 operating system is built to detect only this number of cards.
If you want to bypass this limitation, you can take advantage of specialized mining software based on the Linux Kernel. With this option, all you have to do is choose the correct motherboard. In terms of motherboards, we prefer the ASRock Pro BTC+ series or something closer to it.
Choosing which GPU cards are great for mining isn't all that easy, and that's because this is determined by the amount of money you're willing to commit to your mining rig project. In general, it makes a lot of sense to go for the most expensive and powerful GPUs for the price of two or three slightly weaker ones. But then again, keep in mind that cheaper GPUs will bring you more profit, especially when you consider their power consumption and the initial cost of buying them.
At the moment, the highest income from cryptocurrency mining operations is generated using the Nvidia GeForce RTX 2080 Ti and AMD Radeon VII cards. Nevertheless, we have found that it is more profitable to build a mining farm with AMD Radeon RX 580 and Nvidia GeForce GTX 1660 Super cards since they will pay off much faster.
If you decide to go for AMD RX GPU cards, keep in mind that these graphics cards can be flashed by simply changing the working time of the RAM. Once that is done, you can downvolt the core and execute overlocking. With powerful tools like MSI Afterburner and Sapphire TriXX, you should be able to carry out these manipulations without any hassle. For those asking why this is important, it helps GPU cards perform optimally during the mining process.
Mining rig: What you need to know about electricity
Within the last decade, the mining industry has transformed from something that was barely incomprehensible and cheap to a professional, high-tech venture with insanely high barriers to entry, not just in terms of equipment but also for its maintenance.
After investing in mining equipment, paying for electricity during the mining operation is usually one of the main expenses that should affect profitability. Here is a breakdown of the energy consumption of one mining rig:
Depending on the power and mining algorithm of your GPU cards, you may end up consuming 360 to 1500 watts for a rig featuring six to seven cards. 
The motherboard, HDD, power unit, and RAM usually consume 100 watts. 
The cooling system uses between 20 watts to several kilowatts when using air conditioning systems. 
With this breakdown, we are sure you'll be asking how a miner can reduce the cost of electricity. Well, we will give you some tips that should help. When it comes to cryptocurrency mining rigs, the primary consumers of electricity are probably your GPU cards. But with the proper settings, you can significantly reduce electricity consumption. For instance, when mining Ether, one of the things you can do is to overlock the video memory. In terms of the optimal operating mode for GPU cards, you need to set the core voltage to about 830 to 850 millivolts for AMD cards. And if you're using Nvidia cards, simply set the core voltage to between 650 and 850 millivolts.
Lowering the voltage on the core of the card will drastically reduce power consumption and the amount of heat, which is overall great for your mining equipment.
Power generating units can also use less power if they have a gold certificate. This certificate means that your power generating units are designed to save a large amount of electricity, especially when compared to power generating units without this certificate. Another way to cut down on electricity usage is to change HDDs to solid-state drives (SSD). Solid-state drives are designed to speed up the loading time of your operating system while reducing the power consumption of each rig by 10 to 15 watts. Similarly, modern RAMs like DDR4 or DDR3L instead of DDR3 along with processors can drastically reduce power consumption by another 10 to 20 watts.
Another way a miner can reduce electricity consumption is to find more economical electricity tariffs. By installing your mining rigs in areas with reduced electricity tariffs for consumers, you should be able to cut down your electricity cost significantly. Also, you can reach out to power plants to inquire if they have surplus capacity. If that doesn't work, we suggest you seriously consider setting up your own solar or wind farms you can use to power your mining rigs. Yes, this can be an expensive investment, but it is a smart thing to do if you have the money.
Mining in the cloud
With the unstable situation in the economy and the cost of buying all of the components needed to build a mining rig, many people may not be able to join the crypto mining community. This is where hosted mining becomes a fantastic option for people who want to take advantage of the many opportunities in the mining industry. 
With hosted mining, individuals can mine cryptocurrencies remotely using rented mining rigs. Here is what Philip Salter, the head of operations at Genesis Mining, had to say about hosted mining:
"Since mining is becoming more competitive, margins are shrinking and it's harder for home miners to compete. Miners need to get every drop of efficiency they can, and that means growing the operation (economies of scale) and doing it somewhere where electricity is insanely cheap. […] Mining in the cloud seems like the only viable option for many."
Hosted mining kicks off with a user choosing a provider of computational capacity. Once that is done, the user enters into an agreement with the mining company to connect to its mining equipment. After a user must have paid for computer capacity, the user is then provided with access to remote mining of their preferred cryptocurrency via rented equipment. A user only needs a strong internet connection to kick off the mining process at the end of the day. And just to give you a heads up, hosted mining commissions are charged as per the agreements established between parties.
Hosted mining has some brilliant advantages, and this includes not needing an exorbitant start-up capital. Also, a miner doesn't have to connect to the mining equipment directly. Let us also add that the miner wouldn't have to deal with maintenance or electricity costs as the mining company takes charge of this. Also, with hosted mining, you can seamlessly disconnect from work at any time, regardless of your level of technical knowledge and skills.
Just like cloud mining has its many advantages, there are also many risks associated with cloud mining. And this doesn't come to us as a surprise especially considering that the cryptocurrency industry is still young and boasts of many actors, including rogue actors looking to prey on ignorant users. So before opting for the services of any cloud mining company, we strongly advise users to do their due diligence by carefully studying the platforms and other users' reviews.
Another thing we want you to know is that hosted mining isn't as profitable as other crypto mining options. That said, hosted mining is an excellent option for people who want to mine their favorite cryptocurrencies without investing too much money. With hosted mining, you can still make some decent return on your investment.
Mining rigs: Build it yourself
Mining is undoubtedly an attractive and smart way to make some extra bucks on the side. If for any reason, you discover that hosted mining is a little inconvenient, then we suggest setting up your own personal mining rig, and guess what it isn't as difficult as you imagine. Sure, it will require an initial investment and, of course, a little time to understand how the system works, but guess what? You'll be proud you took this route at the end of the day.
Rand Ready, the CEO, and chief technology officer of Mining Rig Rentals, one of the leading hardware mining rental platforms, believes that building your own mining rig is more interesting. According to him: "I suggest going with a small rig and potentially going larger once you are familiar with mining and have a stable profit."