Bitcoin value rises as fear and greed indication stays at 27
The price of Bitcoin rises for the second day in a row as investor optimism about the sector increases.
The price of bitcoin reaches $41,765, which is considerably higher than this week's low of $38,800.
It continues to sit significantly below its all-time high near $70,000.
The market's mood has been improving since Tesla announced it had invested $1.5 billion in Bitcoin.
The move was seen as a vote of confidence in the asset by one of the world's most influential companies.
Fear and greed measurement
The cryptocurrency market has been quiet since the announcement of Bitcoin Cash. Yet it appears that investors have been rushing in to buy the dip.
The Bitcoin fear and greed index is still in the danger zone of 27, according to data. Nonetheless, this mark is better than last week's extreme fear level of 25.
The Bitcoin Fear and Greed Index, which tracks investor sentiment, remains at "extreme fear" levels.
It is currently at 27, down from 30 yesterday.
Investors are becoming less fearful about Bitcoin, but there is still a long way to go.
When looking at Bitcoin's performance in more depth, it becomes apparent that; it is still highly correlated with traditional assets such as equities.
Even after Netflix's disappointing results, the technology-heavy Nasdaq 100 index has recovered strongly.
With several commodities tripling or even quadrupling over the previous year, it's no surprise that the macro-environment is shifting.
At the same time, the debt market has continued to deliver warning signals about America's economy.
This week, for the first time since 2018, the 30-year yield breaches the 3% territory.
A deeper examination of on-chain data reveals that some investors have begun to buy the dip.
According to Glassnode, a significant amount of Bitcoin supply has been re-accumulated between the $38k and $45k levels.
These are crucial market ranges because they signal the current consolidation phase. 
According to Glassnode, most Bitcoin investors acquired their coins at or near the $40,000 level; with a majority of long-term investors.
Many who bought bitcoins above $50,000 gave up and handed over their coins.
As a result, if Bitcoin is between $35,000 and $42,000 for an extended period of time, it will be in an accumulation phase.
Bitcoin price forecast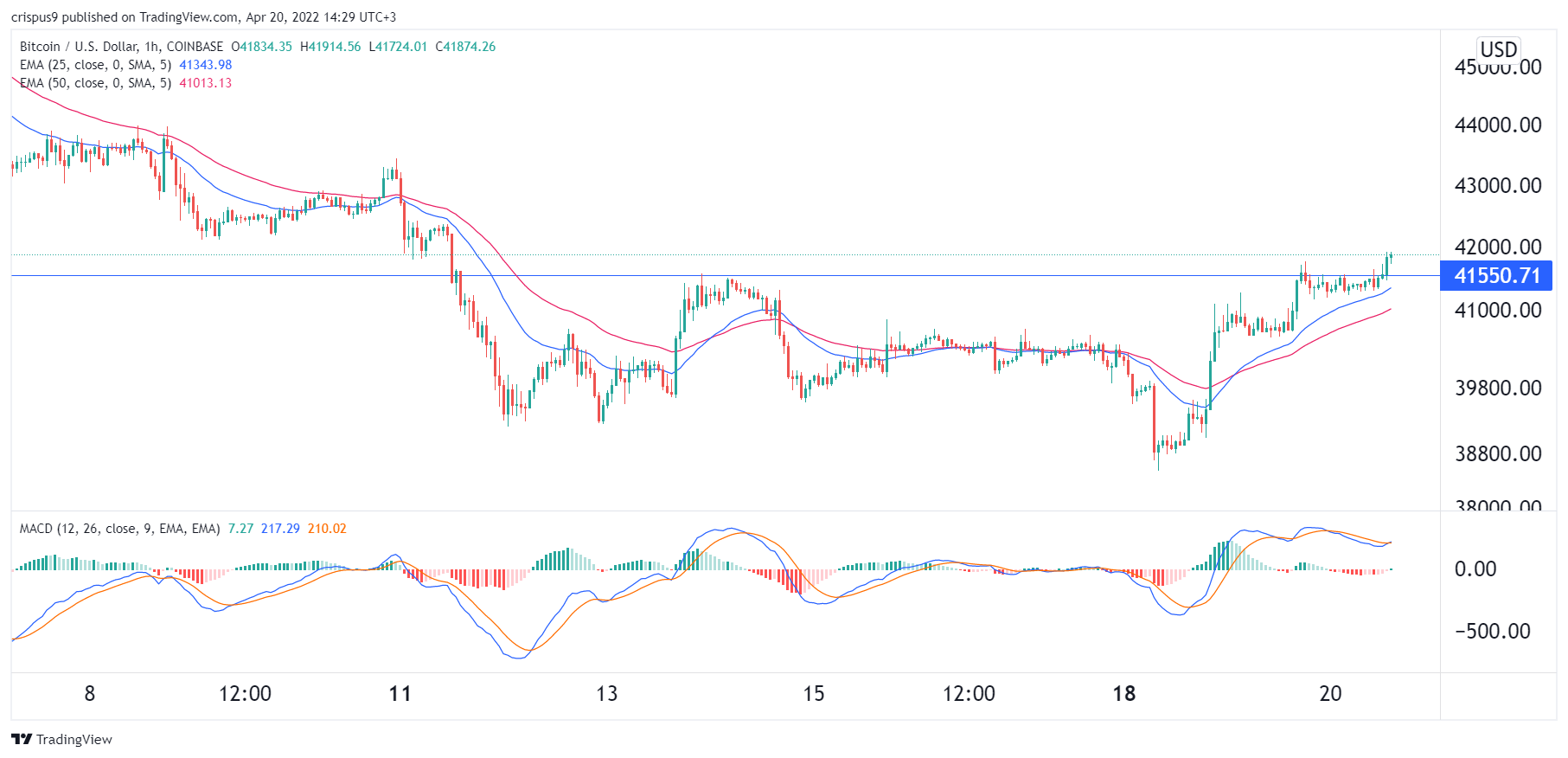 On the hourly chart, we can see that the coin has been in a strong upward trend for the previous few days.
It succeeds in overcoming the key barrier at $41,550, which was the peak level on April 13th. 
Bitcoin is currently trading at $42,162.
The 4-hour chart shows that the coin has managed to move above the $41,200 level; and is currently consolidating below the $42,000 level.
The next major resistance levels are seen at $43,000 and $44,000.
BTC is still being bought by institutional investors.
Grayscale, which manages the largest Bitcoin trust, said it had inflows of $171 million on Wednesday.
That took its total assets under management to $25.4 billion.
Bitcoin is a digital asset and a payment system invented by Satoshi Nakamoto.
Transactions are verified by network nodes through cryptography and recorded in a public dispersed ledger called a blockchain.
Bitcoin is unique in that there are a finite number of them: 21 million.
They are a means of reward for a process known as mining.
They can be exchanged for other currencies, products, and services.
At present, over 100,000 merchants and vendors accepted bitcoin as payment.
Bitcoin is pseudonymous, so your identity is hidden behind a long string of numbers and letters.
This can be an advantage if you're worried about people snooping on your financial transactions.