The past couple of weeks in the crypto market has witnessed some bullish resurgence with most crypto assets performing beyond expectations. Even though the number one cryptocurrency by market cap, Bitcoin has enjoyed some weeks of impressive results, it bounced off the significant support at $46,000 on August 14, after a failed attempt to break through the major resistance resulted in rejection. 
Bitcoin meets rejection at $48, 000
Despite data showing BTC/USD rising to fend off the giant sell wall on Saturday, the number one cryptocurrency by market cap quickly retraced to Friday's level. 
From what we have seen so far, the area of seller pressure around $47,000 and beyond has remained a significant place on the daily chart throughout the week, with BTC taking several days to launch an onslaught. Unfortunately, BTC seemed to have lost its steam as the area was only partially broken before BTC/USD retreated to more familiar territory. 
As at the time of putting together this post, BTC was trading around $46,500, a place where the price has remained for the past 24 hours. 
According to one expert," nothing special about this move, it's just typical for a weekend." 
"However, the heavy resistance zone was hit between $47-49K, and no breakthrough happened for Bitcoin. Remaining cautious."
For Bitcoin to successfully break through the resistance at $48,000 and flip resistance to support, we would need a suitable volume to maintain the current upbeat momentum. Should BTC attempt another breakout without a rise in volume, then overly optimistic traders may end up taking a hit. 
Some traders are currently taking a breather and eyeing the forthcoming daily close for confirmation. 
Meanwhile, technical analysis shows that Bitcoin is preparing to retest its ascending triangle. A four-hour close just above the top of the triangle will be good for bullish traders. At the same time, a daily close will most likely push us towards the next resistance. 
Overall, the mood remains bullish as multiple signals are forecasting a continued move to the upside. 
Cardano enjoys a rollercoaster week
As per altcoins, Cardano has enjoyed a remarkable week in the crypto market. As at the time of writing, ADA gained 8% on the day with price blasting past $2.20. After effectively surpassing the significant support at $2, ADA/USD went on to print its highest level since May when it clinched its all-time high of $2.50.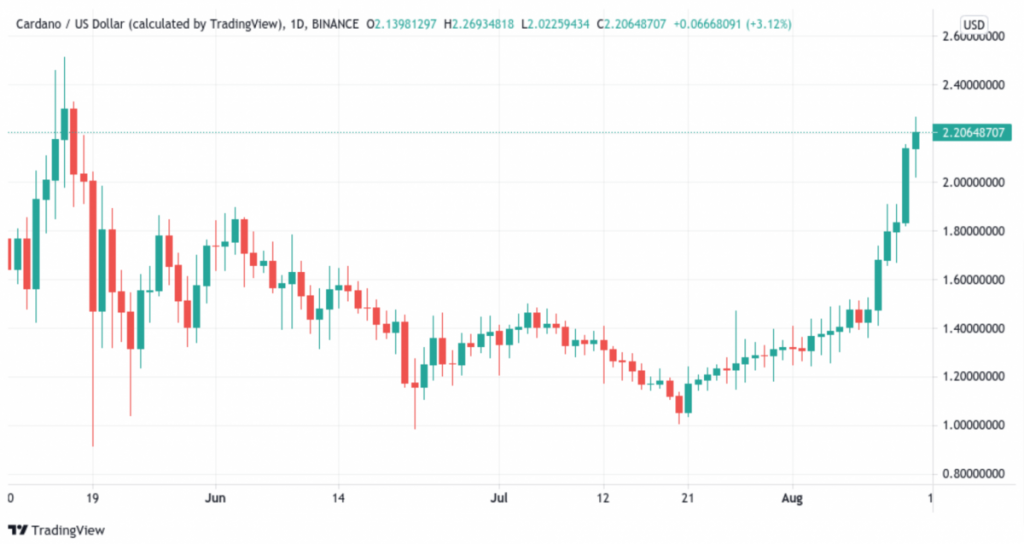 While the majority of altcoins saw limited actions, XRP performed quite remarkably as it delivered 13% daily gain, further pushing its price to $1.20. 
Overall, the cryptocurrency market cap sits at 1.97 trillion.