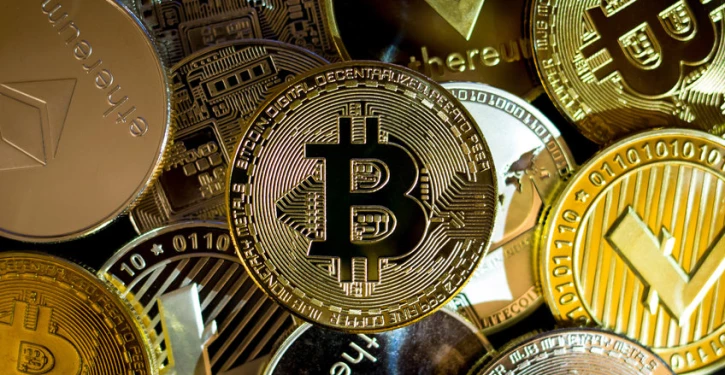 Top cryptos
Bitcoin is falling rapidly, with the price currently trading at $31,000. Ethereum and XRP also take a hit. Solana is the biggest top 10 loser, with a dip of 12%. 
Litecoin, Binance Coin, and Bitcoin Cash are all down by around 5%. Crypto.com Coin is the least affected with a loss of 1.5% on the day.
LEO is the only top 30 crypto in the green at press time, having gained 2% since yesterday. The token is currently trading hands for $1.
Outside the top ten, crypto prices perform even worse. Avalanche has lost almost a fifth of its value today, with more pain to come. Terra's UST-pegged stablecoin is down 67 percent, trading for 30 cents per UST. 
The overall cryptocurrency market cap now stands at $1.64 trillion. Bitcoin's dominance has fallen to 58.4%.
While most cryptos are taking a beating, LEO is bucking the trend and posting gains. Another major loser is NEAR, which dips by 22% today and 33% this week. 
Top movers
Outside the top 20, things were similar, with most coins losing around 7-12% of their value.
The recent market downturn has hit several cryptocurrencies hard, with Algorand (-22%), Cosmos (-17%), Monero (-18%), ApeCoin (-21%), THORChain (-23%), Axie Infinity ( -24), Fantom and WAVES (each -20 percent), and the promising STEPN's GMT (-27) among them.
Terra's LUNA crumbles down by 86% today and ranks 38th. Since the start of its stablecoin crisis, LUNA has dropped 95 percent in value.
The only crypto in the green is UNUS SED LEO, which has appreciated by 6% since then. This currency lets Bitfinex users save money on trading fees. It is also the first cryptocurrency to be backed by a traditional financial institution, i.e. Circle.
The amount of the discount is determined by how much LEO money is in their account. LEO is currently at #22, and it appears poised to break into the top 20 soon.  
Buzzing
The most successful firm is 1SAFU. A platform on Solana that allows users to make and receive messages, SOL, and NFTs in one transaction. 1SAFU has seen its price surge by almost 25% in the past 24 hours.
To participate and utilize the service, simply have an SOL wallet that is compatible. 1SAFU holders are rewarded handsomely based on a tiered system. It's up 843% today, with its token SAFU. 
Summary
The week starts with a Crypto.com listing on Binance DEX. Followed by the news that the Malta Stock Exchange will be offering tokenized securities. These two events have little impact on the overall market, with BTC and most major altcoins dipping slightly.
However, things take a turn for the worse on Wednesday when BTC plunges by over 20% in just a few hours.
The total market capitalization of cryptocurrencies has decreased by $92 billion over the past seven days and is currently $1.81 trillion. Bitcoin's dominance is 64%.
While the market is still in recovery mode. Some positive news comes from LEO, the native token of decentralized exchange Bitfinex. LEO is the only gainer in the top 20 cryptocurrencies by market cap this week and is up 8.43% to $1.66.
Other top performers this week include Ethereum Classic (+8%), Bitcoin SV (+7%), OKB (+6%), and Crypto.com Coin (+5%).
Prices of cryptocurrencies are extremely volatile. Crypto prices can fluctuate on any given day. Ethereum co-founder Vitalik Buterin warns that investors should "be prepared to lose all of their money" when investing in cryptocurrency.
When it comes to LEO, Bitfinex CTO Paolo Ardoino says that the token "fully decentralizes the platform and aligns our interests with those of our users."