Bitcoin (BTC) large investors drive prices beyond $40,000
Bitcoin (BTC) recovers after being pushed down strongly over the previous weekend. The mega-cap currency reclaims $40,000 and is ready to consolidate in the days ahead.
Bitcoin is currently being driven by large investors, who are pushing prices well beyond $40,000. This helps Bitcoin to recover from its recent price drop and build momentum for further growth in the short term.
Here are some key facts to remember:
Recent price increases are largely due to BTC big investors purchasing dips.
The $38,000 dip has become a popular target for large wallets.
The price of Bitcoin may continue to rise, reaching $45,000.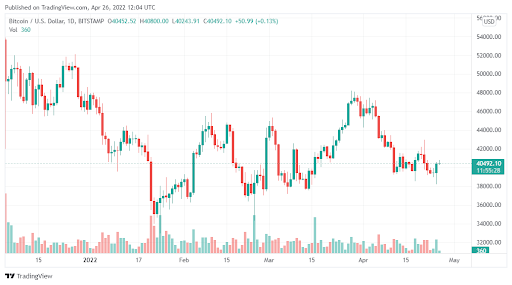 Bitcoin (BTC) – Price Forcast and analysis
For most of 2022, Bitcoin has merely been trading in a narrow range. BTC has bottomed out at around $32,000 in February and it subsequently recovers sitting just above $40,000 as of mid-June.
The downside potential appears to be limited to $35,000. In fact, for the previous two months, the coin did dip beyond that value.
The recent price hikes are largely due to large investors purchasing Bitcoin during dips. The $38,000 dip has been a popular target for big wallets looking to invest in Bitcoin.
Some analysts believe that Bitcoin may continue to rise, potentially reaching the $45,000 mark or even higher over the coming months.
Whether this will happen or not remains to be seen, but Bitcoin's recent history suggests that; the coin will remain a popular investment option for investors looking to enter the cryptocurrency market.
Presently, the coin will attempt to consolidate gains above $40,000. Following that, it will retest at $45,000. It's too early to tell whether Bitcoin bulls can drive prices past $45,000. But thus far, the currency has been unable to break through its 200-day SMA of about $49,000.
Should you tread their path?
When investing in cryptocurrency, it's usually a good idea to follow large investors. Furthermore, BTC's big investors are starting to look correct.
The $38,000 big investors' entry value has earned big returns in the last few weeks. Therefore it makes sense for any trader to track whale money when trading this cryptocurrency.
It is noteworthy that Bitcoin's hashrate has been growing steadily, which is a good sign for the network's health.
The Bitcoin network's hashrate has recently reached an all-time high of 172 EH/s. This is a positive development because it indicates that the Bitcoin network is becoming more secure as more miners are joining the network.
In addition, the Bitcoin mempool, which is a backlog of unconfirmed transactions, has also been declining in recent days.
This is another bullish sign as it indicates that Bitcoin's transaction processing speed is improving. Bitcoin large investors are driving prices beyond $40,000 and it looks like they are preparing for another push higher.
Bottom line
The question is, can Bitcoin sustain these gains? To know whether Bitcoin will rise or fall in the short term, let's take a look at its price history.
Bitcoin has had a volatile past, and its prices have been known to change rapidly. When it first arrived on the scene in 2009, BTC was worth less than $1.
By December 2017, Bitcoin had reached an all-time high of almost $20,000 per coin. However, the currency then fell sharply in value and spent most of 2018 fluctuating between $3,000 and $4,000.
Bitcoin's price then rises again in 2019 and 2020, before reaching its current all-time high of over $40,000 per coin.
Bitcoin's recent price surge has been driven by some of the factors discussed above. Investors are also buying Bitcoin as a way to hedge against inflation.
With all of this in mind, Bitcoin's prices will likely continue to rise.