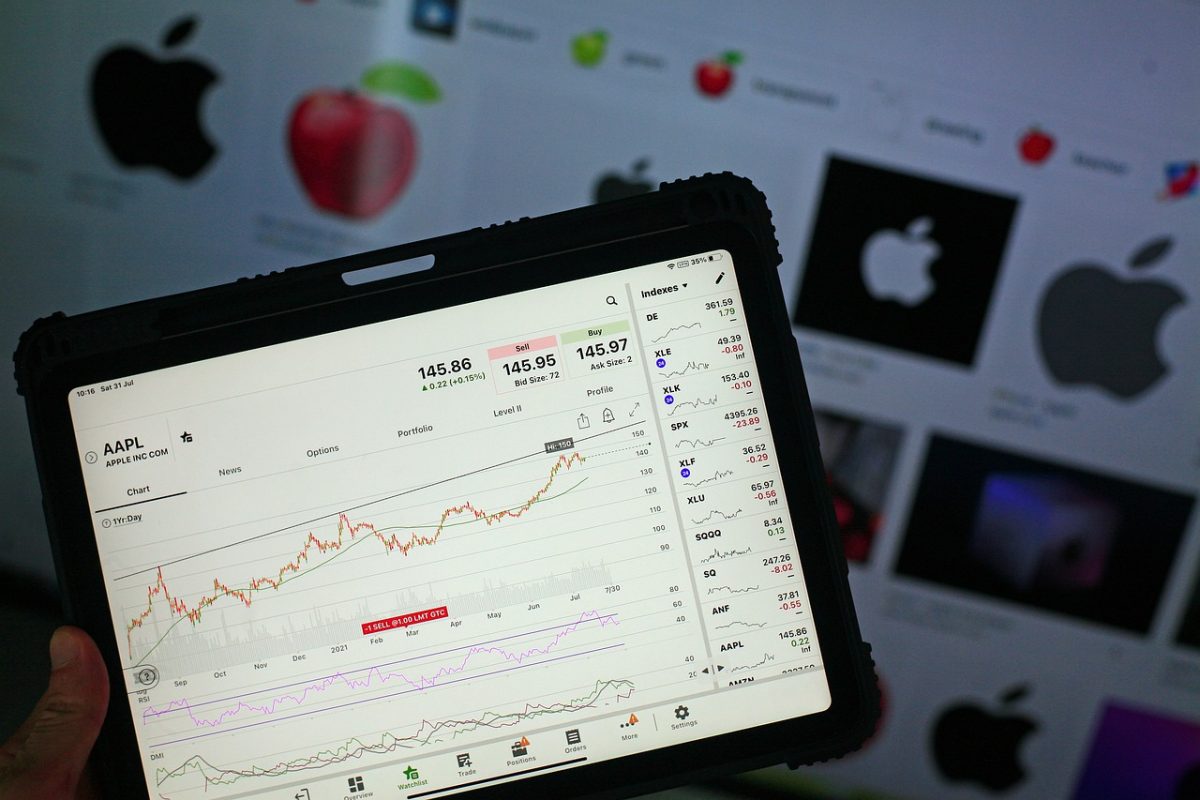 Are you stuck in your mind about the best crypto investment apps in the UK that are easy to use, beginner-friendly, and easily accessible in the financial market? Well, we have been there, and that's why we have put together this detailed guide on the best investment app available in the UK financial markets that allows you to buy and sell assets via phone at low fees.
This guide reviewed the best crypto investment apps in the UK for 2021, covering the likes of stocks, ETFs, forex, and cryptocurrencies. Also, we will walk you through the process of how to open an investment account in less than five minutes with these investment apps.
5 Best Investment App UK 2021
Here is a list of the best crypto investment apps in the UK for 2021.
eToro: Top choice by industry experts.
Capital.com: Best investment app for beginners in the UK.
AvaTrade: best for research and analysis.
Pepperstone: the best for ZERO spread accounts.
Plus500: Best app for Asset Diversity.
Let's dig deeper into the reviews of the above investment app providers 2021!
Reviews of the 5 Best Investment Apps UK – 2021
The process of deciding which investment apps is the best fit for your personal needs and financial goals can be stressful and time-consuming. To understand the core metrics surrounding fees, tradable assets, regulation, and finding user-friendly apps with good customer service, you need to do proper research. If you are an expert trader, you also consider the technical indicators, chart drawing tools, and market insights. Below are top reviews gathered about the top 5 best UK investment apps in the market, saving you from countless hours of research.
eToro – Top choice Investment app the UK for 2021
Reviews gathered from 50+ providers show that eToro is by far the best and top choice investment app in the UK for 2021. There is no doubt; the app provides all information surrounding ease of use, asset diversity, regulation, and fees. FCA regulates the eToro investment app making it safe. FCA is the governing body responsible for supporting and monitoring the UK financial services markets. Also, the FSCS covers the eToro investment app, which means coverage is available for your first £85,000 in the unlikely event of any eToro insolvency.
Next is asset diversity; you might say can I find a suitable asset with this app? The answer is yes –eToro is home to thousands of financial instruments, so you won't have difficulty finding a market. There are over 2,500 stocks and ETFs on the eToro investment app. The app cut across markets in the UK, US, Europe, Asia, the Middle East, and more, saving you some money.
eToro offers commodities such as gold, silver, oil, and wheat. You can also trade the stock market on forex pairs and cryptocurrencies such as Ripple, FTSE 100, Nasdaq Composite, Bitcoin, Litecoin, and UNIswap. You will benefit from meager fees trading on a spread basis. We like that you can purchase fractional assets with this top-rated UK investment app; even if the asset's current market price is less than $50, you can still invest.
The minimum investment for cryptocurrencies is just $25, which is more suited for small budgets. Now let's discuss the eToro Copy Trading tool since we have covered regulation, asset diversity, and fees. This eToro Copy Trading tool permits passive investing as you can copy an eToro trader that you like.
You will need to open an eToro account to get started. You can deposit in the eToro app with your bank account. It's possible to use an e-wallet that includes a credit card like Paypal and Skrill. The eToro investment app is free to download and can be found on Android and iOS devices. The minimum amount to start is about $200. You can add money to your account at a deposit of just $50 after that.
Pros
You can invest in cryptocurrencies on a spread basis.
Android and iOS support them.
The minimum investment is just $25 per trade.
It supports debit/credit cards and e-wallets.
FCA, CySEC, and ASIC regulate it.
Over 20 million users.
Beginner-friendly.
Social and copy trading tools are available.
Cons
It's too essential for technical traders.
·There is no support for either MT4 or MT5.
Capital.com – The best Investment App in the UK for Beginners
For those just starting online investment, Capital.com is one of the best investment apps in the UK. The mobile app is free and works perfectly with iOS and Android devices. This app is beginner-friendly, meaning the process of selecting your preferred market and placing a buy or sell order can be done seamlessly without previous experience.
Trading on the Capital.com app is attractive, with over 130 forex pairs, trade indices, ETFs, and commodities. A highlight of this app is the CFD stock department, which allows you to trade with over 3,000+ individual shares from almost 20 UK and international markets. Companies listed on the AIM are the UK's secondary market and top FTSE 100 and FTSE 250 stocks.
The Capital.com app is very competitive. For instance, there are no fee charges when you deposit or withdraw funds, and spreads are often industry-leading. Capital.com app is an investment app that does not have a commission. The UK has spread betting facilities, including leverage and short-selling capabilities. The account minimums on the Capital.com investment app are very low.
The minimum amount to deposit with a card or wallet is just £20. You can create a demo account to test drive the Capital.com investment app before making a deposit. It will mirror the live financial markets. You don't have to risk a dime if you want to practice your day trading endeavors. The UK's Financial Conduct Authority regulates the Capital.com app, so you're safe.
Pros
spread betting and CFD broker.
The FCA regulates the company.
There is a minimum deposit of just £20 for debit/credit cards and e-wallets.
No commission on all markets.
No deposit/withdrawal fees.
Thousands of financial markets supported.
Perfect for beginners.
Cons
It might be too essential for advanced traders.
Bank transfers need a minimum deposit of £250.
AvaTrade – The best UK Investment App for Research and Analysis
A popular online CFD broker and spread betting platform AvaTrade, is regulated in seven jurisdictions. AvaTrade investment app is a top choice for millions of traders globally.
The AvaTradeGO app lets you conduct technical analysis utilizing indicators, screeners, and chart drawing tools. This investment app is fully optimized to work on iOS and Android operating systems, even if you analyze it on a small screen. It also gives you real-time access to news and insights into the financial markets.
AvaTrade investment app supports various assets classes ranging from currencies, indices, international stocks, and precious metals; you can also trade oil and natural gas on this platform. If you've been in the online trading scene for a while, you might consider trading futures and options on the AvaTrade app. Regardless of the markets, you decide to invest in, AvaTrade is a zero commission broker. The only trading fee you have to consider is the spread.
Lastly, the spread is competitive when trading major asset classes during standard market hours. Deposits and withdrawals are free, so you don't have to pay transaction fees. You can deposit with a Visa or Mastercard if you make a minimum deposit of £100. To process bank transfers, you may need to wait a couple of days. It is possible to trade without paying stamp duty or capital gains tax with the spread betting facility.
Pros
Available in seven jurisdictions.
All supported markets have no commission.
It offers spread betting and CFD instruments.
The minimum deposit is £100.
You can get a free demo account.
It supports both MT4 and MT5.
Cons
The spread betting department is limited.
Instant bank transfers are not supported.
Pepperstone – The best UK Investment App for ZERO Spread Accounts
If you want to access financial markets with low fees and spreads as a day trader, then Pepperstone is the best app for you. The FCA regulates the app provider, which offers two types of accounts- the first is the zero commission account with a minimum spread of 1 pip. This type of account is suitable for users who want to trade with small amounts, but if you are an expert trader who enters and exits positions in a day, then the raw spread account is suitable for you. This account allows you to trade with other market traders, allowing significant markets with a spread of 0 pips. You'll have to pay a small flat commission per slide for this account type.
Pepperstone app is compatible with three third-party platforms with their applications. The app works perfectly on Android and ios devices. You can open an account with Pepperstone once you know which investment app is suitable for you. It takes a few minutes and will need some personal data. You can fund your account instantly with a debit or credit card if you make a minimum deposit of just £100. This top-rated UK investment app specializes in CFDs. Pepperstone offers leverage on all account types and gives you access to hundreds of stocks from multiple exchanges in line with FCA regulations.
Pros
It has over 1,000+ market shares, indices, commodities, and forex.
Spread betting markets available.
Zero percent commission account available.
A minimum deposit is not required.
Regulated by the FCA.
It is compatible with MT4 and MT5.
Cons
The pricing structure is challenging to understand.
Limited Education department.
Plus500 – The best UK Investment App for Asset Diversity
The plus500 investment app is well suited for traders who like to access various financial markets. This investment app is authorized and regulated by the FCA (FRN509909), making it one of the most trusted CFD providers in the UK.
The Plus500 investment app gives you the leverage to trade stock CFDs from multiple regions like the UK, Africa, North America, and more when it comes to asset diversity. Also, you can deal with precious metals, agricultural products, energies, and indices. ETFs, futures, and forex are also supported markets traded on this app. The fee department is very competitive; this is true as you don't need to pay for any trading commissions when you decide to buy or sell orders. The spreads are tight, withdrawals and GBP deposits are free. With a minimum of £100, you can start trading with real money; you can also utilize the free demo account, which helps you gain knowledge on live financial markets without risking any capital.
Furthermore, one interesting feature of the Plus500 UK investment app is that it gives you leverage on all supported markets, following FCA regulations. You can also profit from both rising and falling markets.
Pros
The FCA regulates the CFD trading platform.
All markets have zero commission.
Spread is very competitive.
Compatible on Android and iOS devices.
A deposit of £100 is required.
It supports debit and credit card payments.
Cons
Spread betting facilities are not available.
There is no support for third-party trading platforms.
How To Select The Best UK Investment App
When searching for the best investment app in the UK, it's always advisable to do your proper research as no two investment apps are the same. The research process can be time-consuming and daunting, as there are many factors you need to consider, but you can hasten the process by following this checklist below.
Licensing and Regulation
It is essential only to use investment apps that are safe and secure.
It will make it possible to trade in a safe environment.
A range of licensing rules protects capital if you stick with the regulated investment apps.
A range of licensing rules protects your capital if you stick with the regulated investment apps.
FCA requires all licensed investment apps to keep client funds in separate bank accounts.
The app provider cannot use client money for its business expenses.
Supported Asset Classes
Not all investment apps give you access to financial markets in the UK. The app focuses on a single asset, like UK stocks. Before opening an account, you need to explore what markets the investment app offers.
For example, the eToro investment app the stock markets, forex, cryptocurrencies indices, and more, allowing you to leverage a single investment app account for all your investment needs.
Investment app Fees
Fees vary in the UK. It's more than just how much you'll pay but also the account charges. It is essential to look out for the primary fees when choosing an investment app in the UK.
Commissions/Dealing Fees: You will pay this particular fee type every time you place a trade. Mostly, this will be a variable commission. Investment apps like eToro, Capital.com, AvaTrade, Pepperstone, and Plus500 all offer accounts that come with a zero commission policy.
Spreads: The spread varies based on the investment app provider you choose. For instance, Pepperstone offers zero spread accounts.
Funding: The UK investment app provider might charge a fee on deposits and withdrawals. Depending on the payment method you choose, the price can vary.
Inactivity Fees: Many investment apps in the UK charge an inactivity fee when your account becomes inactive. It starts after a year of inactivity.
Swap Fees: you pay a swap fee when buying and selling leveraged CFD products and keeping the position open past standard trading hours.
From the above insight on fees, you can see that understanding how much your UK investment app charges fees can be complex. Therefore, it is crucial to grasp before you sign up.
Customer Service
The best investment apps in the UK have top-rated customer support. A live chat feature is available 24/7 to respond to your queries/ questions. If you need help with your account, you need to send a message to an agent in real-time. Most poorly rated investment apps only offer support via email.
Core Features
It is worth looking at the features of your chosen UK investment app. When reviewing the eToro app, we came across a cutting-edge Copy Trading feature. For example, this allows you to copy an eToro investor; if your chosen trader puts a sell order on gold, you will mirror it in your portfolio. It makes it possible to trade the financial markets passively. The eToro Copy Trading feature has no fees.
Also, there are other questions on features you need to look out for when searching for the best investment app:
Are there any Fundamental news tools?
What are the technical indicators and chart drawing tools used?
What is the leverage and margin trading option available?
Is there protection for Negative balance?
Is there a Support system for MT4/MT5?
What is the Social trading option available?
How is the Economic calendar?
Are there Webinars and educational materials?
Nevertheless, if you want to do well in the markets, it is best to avoid an unhealthy investment app.
Payments
Without a doubt, if you want to profit from the financial markets – you will need to deposit some funds first into your investment app account. Well, the best providers in the investment app space provide you with access to instant payment methods directly from within the app.
For instance, the eToro investment app supports debit and credit card payments. Also, know that if you are opt-in for an investment app that only supports bank transfers – you will have to wait several days for the funds to reflect. A typical example of an investment app that only helps manual bank deposits is Degiro.
Five steps to get started with the Best Investment App UK
We can walk you through the process of getting started now that you know how to choose the best investment app in the UK. The initial account opening procedure is the same, no matter which app you use.
Here, we will use the eToro app, the investment app of 2021, to illustrate an account opening.
Step 1: Open a Trading Account
To open an account, you need to visit the main eToro website. The platform will request some essential personal information from you, so this should take you a few minutes.
Step 2: Download the eToro app
Once you download the eToro app to your phone, select your respective operating system (iOS/Android) and process to confirm the download. Once you download the app to your phone – open it up and log in with your details (username and password) created in Step 1.
You can use the eToro app on your phone. Select your operating system and process (iOS/Android) to confirm the download. Log in with the username and password created in step 1 on the downloaded app on your phone.
Step 3: Deposit Funds
You have to deposit funds into your eToro account to trade with real money. Using your e-wallet or debit/credit card is a seamless effort. Other payment methods accepted are PayPal, Skrill, and Neteller. The latter includes some payment methods. The minimum first deposit is $200 or about $145 for the eToro investment app.
Step 4: Search for Market
You can see the complete list of financial assets that eToro supports by clicking on the 'Trade Markets' button. It is advisable to browse the asset market to find an investment you want to trade. Another option to browse quickly is to use the search bar tool if you have a particular financial instrument in mind.
Step 5: Place Trade
Now it's time to place your first trade. You can enter your stake on the eToro app. Most assets have a minimum of $25 and $50. Finally, click the 'Open Trade' button to confirm your order.
Best UK Investment Apps – Conclusion
This guide reviews the best UK investment apps when choosing a provider, such as regulation, fees, payments, customer service, and core features. From our research, eToro is the best investment app for 2021. The likes of stocks and exchange-traded funds come with a zero commission rate. Still, you will be able to trade thousands of financial instruments at this regulated app. eToro was ranked the number one UK investment app for its ease of use, small account minimums, and cutting-edge Copy Trading tool. The latter allows you to trade on your phone passively, which is okay for beginner traders.
FAQ
What is the best FCA-regulated investment app for beginners in the UK?
eToro is the best UK FCA-regulated investment app for beginners. The demo mode feature allows you to trade in live market conditions with no risk of your own money.
What is the best free investment app in the UK?
You can get the eToro investment app for free on your phone. You don't need a fee to open an account, and the stock/ETF commission is free. You can trade other assets on a spread basis. The best free investment app in the UK is eToro.
Are the UK investment apps safe?
One way to know if your investment app is safe is if it is authorized and regulated by the FCA. Also, the financial services compensation scheme covers the eToro app.
How do investment apps work in the UK?
Like a traditional online broker, investment apps provide you with speculations on the future value of financial instruments with real money.
Does the eToro app work only on iPhone?
No, the eToro investment app also works on Android.