Dogecoin (DOGE) is on a roll today. The currency has been experiencing a tumultuous 2022 and just dipped below $0.109.
However, it appears that Dogecoin's popularity is about to turn; and we could see some long-term gains in the weeks ahead. Here are some facts:
Presently, DOGE is trading at $0.0019, having surged past its demand zone of between $0.109 and $0.124 in recent days.
Before the market corrects, the coin will most likely reach $0.2.
The rate of DOGE's price increase has been remarkable. Over the previous 24 hours, it has appreciated by almost 30%.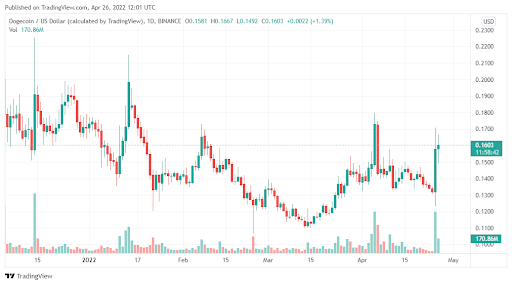 Dogecoin (DOGE) – What is the long-term prospect?
Dogecoin, like other meme currencies on the market, is having a terrible year. The coin experiences some bullish indications at the end of March. However, this did not last long; rather, dogecoin tumbles in April. Things are starting to improve, though.
In the Dogecoin community, there are speculations that the coin could rise to $1 by the end of the year.
This is not an impossible feat considering the recent price action in the market. Dogecoin (DOGE) has all the prospects to end the year on a high.
Following Elon Musk's purchase of Twitter. Many predict that DOGE may become part of the payment system for the platform. As a consequence, in the last 24 hours, the coin has appreciated by 30%.
However, we think that Dogecoin has further room to rise. Before we see the chance of a substantial price decline, the currency will most likely continue to escalate toward $0.2. This will bring your investment up by 30% from its current value.
Dogecoin's prospects and long-term viability
It's doubtful that DOGE will reclaim its all-time high of approximately $0.7.
To do so, the coin must grow by at least 4x from its current price. DOGE, on the other hand, may become huge if Elon Musk follows through with his intention; to include the meme currency into Twitter's payment system.
However, the meme coin's prospects are still positive. According to conservative predictions, the meme coin has a twofold potential to grow before the end of the year.
This makes Dogecoin a good investment for long-term holders who don't mind waiting out the current market conditions. Dogecoin's price will continue to rise in the short term as more investors enter the market.
About Dogecoin (DOGE)
Dogecoin (DOGE) is a cryptocurrency that start as a joke in 2013. It has since exploded in popularity, with many people using it as a way to tip others online or make donations.
Dogecoin has a very active and passionate community behind it, which has helped it to survive and thrive over the years.
It is a decentralized, peer-to-peer cryptocurrency that was launched in late 2013. It was initially inspired by Doge, an internet meme featuring a Shiba Inu dog.
The coin's growing popularity and tight community make it one of the best cryptocurrencies for long-term investments.
Dogecoin gains popularity initially due to its Doge meme-inspired "joke" cryptocurrency, but it has evolved into a strong contender in the crypto world.
With its low price and fast transaction speeds, Dogecoin is an excellent currency to use for microtransactions and tipping online.
Additionally, many users are attracted to Dogecoin because it is not as serious as other cryptocurrencies. It is often called the "joke currency" of the crypto world.
Do you agree with the last statement about Dogecoin? It will be interesting to know your thoughts.