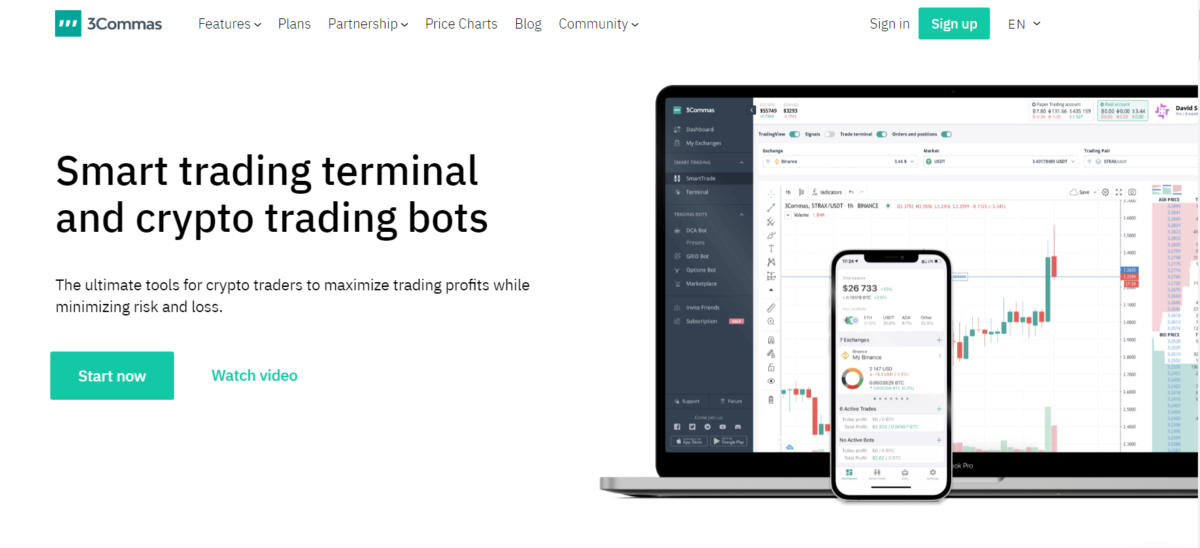 Are you looking for an auto trading platform to trade cryptocurrency? 3Commas is an online cryptocurrency trading platform that aims to help users create automated trading robots. The platform is compatible with all major cryptocurrency exchanges. It also includes portfolios, dollar-cost averaging bots and other features. This review of 3Commas will give you a more detailed look at this cryptocurrency trading platform.
What is 3Commas?
3Commas, in its simplest form, is an online platform that allows traders to benefit from automated trading bots. 3Commas is open to all investors, regardless of their experience.
Automated trading is when you decide to trade cryptocurrency using a trading robot. The bot will place orders for buy and sell on your behalf.
The bot's many capabilities including market orders, short selling, stop loss and take profits orders, trailing orders and composite bots.
3Commas allows you to copy another trader's portfolio if you are not yet comfortable setting up your trading parameters. By analyzing their historical profits and losses, preferred trading pairs and volumes, you can choose which traders to copy.
You can connect your trading bot to 13 of the most popular cryptocurrency exchanges such as Binance, BitFinex and Coinbase Pro.
There are four pricing options available. There are four options available: a free account, a starter at $22/month, an advanced at $37/month and an all-in Pro account that costs $75/month. Your individual requirements and your goals will determine the package that you choose.
Now that you've learned the basics, we will be covering the details of how automated trading bots work.
Connect Exchange APIs
Before you can decide on the trading strategies that you want to use, you need to first link your exchange accounts to the 3Commas platform. To allow your chosen automated strategy to place trades autonomously, you will need to grant 3Commas access.
Even if you don't want an automated bot, this is a great option because you can automate trade orders across all your cryptocurrency exchange accounts with a click.
Let's take, for example, that you want to reduce your risk by having funds stored at Binance, KuCoin, and Coinbase Pro.
You would normally need to log in to each exchange platform individually to place your order. Instead, you can create a single order through your 3Commas portal. This will execute your order once the pre-defined conditions have been met.
The method you use to link your accounts will depend on which third-party exchanges are being merged. In most cases, however, you will need access to the settings page for your exchange account to extract the API key.
Once you have all the credentials you need, go to "My Exchanges" in your 3Commas account and then click "Connect to new account". Then, copy the API key you obtained from your chosen exchange. After you have completed all the above steps, the 3Commas platform has been granted permission to execute trades for you.
Below is a listing of 13 exchanges supported by the platform:
Bitmex
Bittrex
BitFinex
Binance
Bitstamp
KuCoin
Poloniex
HitBTC
Gate
Coinbase Pro
OKEX
Huobi
Kraken
SmartTrade
Now that you have connected your favorite exchanges to 3Commas, it is time for you to decide which trading strategy you will use. Before we move on to the automated bots, let's discuss SmartTrade.
3Commas, as we have already mentioned in the previous section, allows you to trade across multiple exchange platforms from one hub. This is SmartTrade.
SmartTrade will likely offer some features that are not supported by your exchange, but many of the trading options available through SmartTrade, such as stop loss and profit take orders, should be available on the exchange. You can now take your cryptocurrency trading to the next level.
Your knowledge and experience in trading strategies will determine which trading features you choose to use via SmartTrade hub. We've provided a more detailed breakdown below to give you an overview of some of the most popular features.
Tracking Order
Trailing orders have been a very useful tool in trading since their introduction to the stock market. Trailing orders, regardless of which underlying asset is being traded, allow you to set your profit taking and stop loss parameters automatically. It does this in relation to market conditions.
But what do you do if Bitcoin's price rises? You would normally be restricted to a fixed profit taking order. The trailing order, on the other hand, will adjust both your stop loss parameters as well as your profit take percentages.
Short Sales
The SmartTrader platform lets you place pre-defined short orders as long as your third-party cryptocurrency exchange supports them. If you trade ETH/USD, and believe that a specific support level is nearing breaking, you can instruct 3Commas to execute a short-order and sell your existing holdings.
This is a great way to be able to respond to market conditions autonomously and maximize your upside potential. You can also profit from a short sell via 3Commas when there is a bear market in cryptocurrency trading.
Smart Selling
The SmartTrade hub's smart sell feature can seem complicated at first but it can be a very valuable tool once you understand it. The smart sell feature, in its simplest form, allows you to sell one or more coins and then purchase them back at a later time.
Let's take, for example, the situation where you have XRP in your hand and fear that its price will fall. You are confident in the long-term viability and value of XRP so you will want to purchase back into the market once the price reaches a certain level. Instead of going through all the hassle of doing this manually across all your cryptocurrency exchange accounts you can ask SmartTrade to do it for you.
Automated dollar cost averaging can be used to make things even more profitable. You can buy a pre-determined amount of coins each time an asset reaches a new level.
Automated bots
There are two options when it comes to automated trading robots at 3Commas. You can customize your trading conditions if you are an experienced trader. You can also copy trading portfolios from other 3Commas users if you are a novice trader who has little to no experience with trading strategies.
Before we get into the details of the automated bots, let's first note that technical analysis metrics cannot be integrated into the decision-making process. This includes Bollinger bands and Moving Average Convergence Divergence. TradingView provides the ability to customize your bot. However, the final decision-making process is based upon the cryptocurrency signal finder.
TradingView Cryptocurrency Signal Finder
The TradingView signal finder scans cryptocurrency trading markets micro-second by microsecond, in order to identify potential profit signals. The protocol can issue four types of orders. These include a strong buy, strong sell, and a buy.
After a signal has been issued and the 3Commas bot executes it, the bot will place a number order. The TradingView algorithm will determine the exit strategy for profits and losses.
The key point is that you can customize the details – such as the time to enter or exit the market – to the 't.
Customizing Your Trading bot
These are the key metrics that 3Commas allows you to adjust.
Exchanges: You can choose the cryptocurrency exchanges where your bot should trade. It might be a good idea to trade large volumes on multiple exchanges. The bot will execute all your orders simultaneously so you don't have to place them one-by-one. You won't miss out on any trading opportunities by spreading your orders across multiple platforms.
Pairs: This is where you specify which trading pairs your bot should trade for you. If you want your bot trade BTC/USDT or BTC/ETH, just select the pairs you wish to use from the drop-down menu. It is worth taking a look at the "Recommended Pairs" tab before you start. This tab lists the most suitable trading pairs based on the market conditions that you specify below.
Initial Trade Size: The bot must know the amount you wish to open your trade at. The bot will place additional trades after the initial order is placed, according to your pre-defined conditions. You will need to specify the amount you wish to buy in relation to the base currency. If you plan to trade BTC/LTC then your initial trade size must be specified in BTC.
Safety trade size: This parameter is used for a cost average exercise. This allows you to lower your average buy price as the coin falls in value, as we have briefly explained. A bot will place a safety order for each percent that is against you. For example, if your trade value is USDT/ETH and the bot places a safety order at 1.5ETH, it will do so if the price drops by 1% and again if it falls by another 1%. Similar to the base trade size, the unit of currency you use must match the base currency. In the above example, this would mean ETH instead of USDT.
Safety Trade Limit: This parameter follows the above metric. The bot could place a new safety order after every 1% decline. You must specify how often you would like the bot to do it.
Safety Trade Deviation: You can choose to have the bot determine the percentage drop at the execution of the safety trade. Enter the percentage you want in the box.
Safety Trade Scale: You don't have to limit yourself to a certain percentage. Instead, you can instruct the bot to use a scaled strategy for safety trades. You can, for example, increase the size of your safety trade with each percentage decline.
Trading Volume Restrictions (Trading volume restrictions): This trading metric is very important. You can tell your bot to execute your trading conditions only if the chosen pair has reached a minimum 24 hours trading volume.
Trading Signals Marketplace
The 3Commas marketplace offers trading signals and trading signals if the above strategies are confusing to you.
You can basically buy trading setups from other 3Commas Bots.
You can view historical trading results for every bot on the marketplace.
You'll need to choose an automated bot that has a long track record of consistently generating consistent profits. Each bot will have its own strategy and therefore be more risky than others.
Now that you've seen the basics of the 3Commas platform and what it can do, we will be looking at the pricing plans.
3Commas Pricing
ThreeCommas offers four packages. These include the $75 per month Pro plan and the Junior plan which is free.
You can pay via PayPal or cryptocurrency if you choose a paid-for subscription. You can set up the first as a monthly subscription. The latter must be done manually every month. You can cancel your monthly subscription in any way you like.
Junior Plan – Free
The vast majority of 3Commas features are included in the free plan, including SmartTrade and MarketPlace. It doesn't include the TradingView pricing signals so you won't have access to automated bots. Upgrade if you want to have this feature. The free plan cannot be used if you intend to trade more than $750 in cryptocurrency at any one time.
Starter Plan
The starter plan ($22) has most of the same features as the free plan except that you can use automated bots. The only difference is that the starter plans come with cancellation and error notifications.
Advanced Plan
The advanced package is the best option if you are looking to use automated bots in your trading strategy. You'll get direct access to TradingView pricing signals for $37 per month.
Pro Plan
You will need to pay $75 per month if you want all the bells and whistles of 3Commas. The advanced plan will give you all the features of the basic plan plus many more. You can use both Simple and Complementary bots. And, unlike other plans, the bots on BitMEX are available to you. You also get access to the entire portfolio management suite which isn't included in the other plans.
3Commas Review: Should You Try It?
3Commas is the best platform for cryptocurrency traders looking to move from manual trading to automated trading. You can use the platform even more if TradingView is already installed and you trade on a fully supported exchange such as Binance. 3Commas is also available for advanced cryptocurrency traders who are familiar with bots. However, they may find integration with TradingView more cumbersome than useful.
It might be worthwhile to test the platform before you commit. 3Commas offers a free trial that allows you to try out the platform before making a commitment.